Using Lists for Acquisition, Behavior, Tracking and Analytics

The subscriber list isn't just a target for e-mail blasts.
"There's a diametric shift in the publishing business," says Lisa Moore, senior VP, business development, at Direct Media. "It's a whole new world, a channel shift, and the consumer is in control. Publishers are still using direct mail but mailing less and using only their best lists. Many are embracing the Web and other alternative approaches."
Looking to attract a younger audience, for example, New York tried renting targeted direct mail lists. "The segment wasn't responding as well as we hoped," says acquisitions director Stacey Stambleck. "So we launched an event series targeting a younger audience and included a subscription to the magazine. We concluded that younger people are just more responsive to events than they are to direct mail." On the other hand, New York's core subscriber list still responds well to direct mail.
In May 2008, Rodale launched its Marketing Decisioning Platform (MDP)—"probably our largest direct response effort ever," says Janine Slaughter, senior VP of customer marketing at Rodale. The MDP initiative combined online and offline data into a single database to allow greater segmentation and targeting. The database now includes 30 million e-mail addresses. Results have been pretty remarkable, as Rodale has been able to reduce its volume of promotional material by 30 percent and increase its conversion rates by 40 percent. "We have a lot of platforms," she adds, "so having that unified customer base allows a lot of targeting capabilities and a lot of direct-promotion and cross-promotion."
Moving Customers Online
While offline product sales are still a significant part of Rodale's business, the biggest gains in the last year have resulted from moving its customers online. "Our ability to combine online and offline has stepped up pretty dramatically," says Slaughter. "The magazines have done a tremendous job moving their readers online for more in-depth information and tools. That drives readers to register, subscribe to online newsletters, and provide email addresses. Then we leverage those names."
Offering products online also allows Rodale to target upsell efforts when the customer is in the ordering stream. Men's Health, for example, has found that men like PDF downloads and therefore is developing a series of PDF products that are either free or cost a few dollars.
Rodale is changing the way it looks at customers by appending data, coming up with new formats, and working with the editorial teams to bring new customers onto the file and to develop new products based on the interests of existing customers. "If customers show interest in a book on weight loss, we can quickly and inexpensively develop companion products—a DVD, a journal, a cookbook—and create a string of promotions around weight loss," Slaughter explains. "Everyone in the company is constantly rethinking how to keep people interacting on our sites."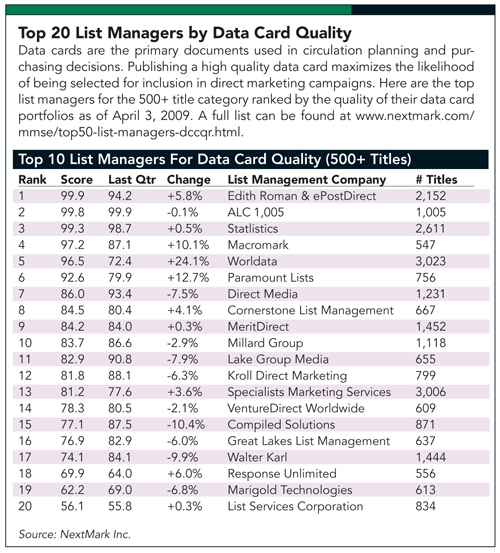 Meet the Author
---