Using Engagement to Bring Storytelling Back to Video

How, and why, HuffPost Live mashes up community with its video.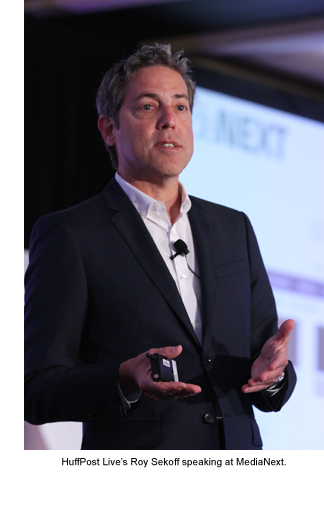 New York—"People don't want to be talked at. They want to be talked with." That was one of the opening statements made by Roy Sekoff, president and co-creator of HuffPost Live, during his rapid-fire closing keynote address at FOLIO:'s MediaNext event Wednesday. The notion forms the foundation of the streaming video site's engagement strategy—that equalizing the status of the video content and community elevates interaction and deepens the story-telling experience.
In 2012, the site launched with a visual emphasis on the video player, which dominated the screen, but it was when the team put community and engagement on equal footing with the video content that the site began to take off.
"Once we decided to make engagement front-and-center it changed everything," said Sekoff. "It became our North Star. It changed the platform, the technology and the people we had in front of the camera."
The emphasis on engagement was inspired by a deeper dive into viewer comment stats on Huffington Post. "I learned that 75 percent of the comments were left in response to another comment," he said. "They were not just commenting, they were having conversations. What if we made engagement just as important as consumption?"
The first iteration of the site was scrapped in favor of a smaller player with an equally-sized comment stream sitting right next to it. 
A "green room" nav bar along the top of the page allows viewers to see upcoming programs. Clicking on one of the programs leads to a page that lets viewers comment and interact even before it airs. Links to related Huffington Post content is also available. "We've had 100 comments in a green room before something goes live," said Sekoff.
Another engagement milestone was reached when the site integrated Google Hangouts to enable video comments from viewers during live programming. The tactic also altered the site's approach to video journalism—viewers became a resource.
"We had to redefine what an expert is," said Sekoff. "We qualified them by asking ourselves, do they have skin in the game? If you have skin in the game, then I think you're an expert. It becomes incredibly dynamic."
By adding the person-on-the-street perspective, the site's storytelling capabilities suddenly became more meaningful, he said. "It's something we've lacked. It's very easy to get data, but we lack storytelling and narrative."
Since launch, the site has reached 16 million monthly uniques and 550 million video views.
Meet the Author
---