URB, Gov't Technology Take Top Maggie Awards

WPA announces 2008 winners.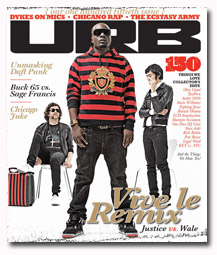 URB magazine took overall consumer honors and Government Technology took overall b-to-b honors at the Western Publications Association's annual Maggie Awards. Nearly 90 awards were handed out during a black tie ceremony, held Friday in Los Angeles.
Other big winners included Active Interest Media's Backpacker, which collected four awards, including one for excellence in the consumer outdoors sports, boating and recreation category. Sacramento, California's Sactown magazine took home three awards, including one for excellence in the consumer city and metropolitan category.
The Maggie Awards honor consumer and trade magazines in both print and electronic formats. Categories for this year's awards ranged from sports and automotive, business, music, city and metropolitan, political and alternative lifestyles, communication and the arts, computers, newsletters and associations.
For the full list of winners click here
, or see below.
---
MAGGIES 2008
Best Overall
Publication/Trade
Government Technology
December
Best Overall
Publication/Consumer
URB
March
Outdoor Sports,
Boating & Recreation/Consumer
Backpacker
May
Music/Consumer
URB
March
Home &
Design/Consumer
Las Vegas Home & Design
September/October
Health &
Fitness/Consumer
Fit Pregnancy
October/November
City &
Metropolitan/Consumer
Sactown
August/September
Regional & State/Consumer
Salt Lake
September/October
Travel &
In-Transit/Consumer
Hana Hou!
August/September
Politics &
Social Issues/Consumer
Mother Jones
September/October
Lifestyles
& Alternative Lifestyles/Consumer
VegNews
July/August
Special
Interest/Consumer
Imbibe
March/April
Annuals &
Custom Publications/Consumer
Where Guestbook Orange County
2007
Semi-Annuals
& Three-Time/Consumer
Seattle Metropolitan Bride & Groom
Summer
Quarterlies/Consumer
The Ritz-Carlton Magazine
Spring
Tabloids/Consumer
LA Weekly
September 7
Visitor's
Guides/Consumer
Aspen Sojourner
Holiday 2007-2008
Communication,
Advertising & The Arts/Trade
Emmy
October
Business,
Finance & Management/Trade & Consumer
Exhibitor
March
Computers/Software,
Technology, Training & Program Development/Trade
Elearning!
Fall
Medical,
Dental, & Related Services/Trade
Journal of the California
Dental Association
February
Beauty &
Fashion/Trade
Nailpro
September
Health &
Fitness/Trade
DAYSPA
January
Public
Safety/Trade
Police
September
Real Estate
& Housing/Trade
Apartment Finance Today
March
Non-Paid/Trade
(Circ Under 50,000)
Interiors & Sources
October/November
Non-Paid/Trade
(Circulation Over 50,000)
Government Technology
December
Special
Interest/Trade
Rangefinder
October
Annuals,
Semi-Annuals & Three-Time/Trade
49th Annual Grammy Awards
February 11
Quarterlies/Trade
Emergency Management
Spring
Guides,
Catalogues & Directories/Trade & Consumer
Virtuoso: Best of the Best Hotel Guide
2007
Tabloids/Trade
TravelAge West
November 12
Corporate or
In-House
Zions Bank Community
July/August
Newsletters
(Print Only)
Zooscape
December/January
Single Sponsor
(TIE)
Every Season
Fall
Single Sponsor
(TIE)
Great Escapes
2007
Supplements
Natural Solutions
Fall
Associations
California
Builder
May/June
Best Student
Article/College
Tusk Magazine
Do It Yourself: Self-Discovery in the Digital Age
2007
Best Overall
Student Publication Design/College
Tusk Magazine
2007
Best Overall
Student Publication/College
Tusk Magazine
2007
Best Web
Article/Consumer
PC World
The 50 Best Tech Products of All Times
2007
Best Web
Article/Trade (TIE)
Yoga Journal, My Yoga Mentor
Once Upon a Time
July
Best Web
Article/Trade (TIE)
CNET News
Securing Microsoft: A Long Road
December 3
Best Regularly
Featured Web Column/Consumer
Truthdig
Arts & Culture – Book Reviews
2007
Best Regularly
Featured Web Column/Trade
Yoga Journal, My Yoga Mentor
Teaching Yoga Column
March, June
Best Overall
Web Design/Trade & Consumer
CHOW
2007
Best Web Publication Website/Consumer
CHOW
2007
Best Web
Publication Website/Trade
JEMS
2007
Best Web E-Newsletter/Trade & Consumer
Inner IDEA Body-Mind-Spirit Review
March
Best
Fiction/Trade & Consumer
LA Weekly
One Hundred Percent
Mar 2
Best Feature
Article/Trade
Pool & Spa News
Slow Burn
March 12
Best Feature
Article/Consumer (TIE)
Backpacker
Panic
December
Best Feature
Article/Consumer (TIE)
5280
Out in the Cold
November
Best Series of
Articles/Trade
Affordable Housing Finance
The Trouble with HUD and How to Fix It
June/July
Best Series of
Articles/Consumer
Sierra
Smart Energy Solutions
Jan/Feb, May/Jun, Jul/Aug
Best How-To
Article/Trade
Exhibitor
Six Simple Snips for Significant Savings
June
Best How-To
Article/Consumer
Mothering
Babywearing
January/February
Best Interview
or Profile/Trade
California
Lawyer
Mad About Yoo
September
Best Interview
or Profile/Consumer
5280
Twisted
March
Best Signed
Editorial or Essay/Trade
Nails
As I See It
August
Best Signed
Editorial or Essay/Consumer
Mothering
A Quiet Place
September/October
Best Regularly
Featured Department, Section or Column/Trade
Communication World
Tech Talk
Jan/Feb, Mar/Apr, Nov/Dec
Best Regularly Featured Department, Section or Column/Consumer
Backpacker
Regional Section
Feb/Apr/Oct
Best Public
Service Series or Article/Trade & Consumer
Phoenix New
Times
Target Practice
Various
Best News
Story/Trade
Journal of Emergency Medical Services
San Diego
Firestorm 2007
December
Best News
Story/Consumer (TIE)
LA Weekly
The End of Murder
January 26
Best News
Story/Consumer (TIE)
Backpacker
Freefall
June
Best
Black/White or Two-Color Editorial Layout/Trade & Consumer
Bend Living
Courage & Strength
October
Best Color
Editorial Layout/Trade
Scotsman Guide, Commercial
Doing Business in the Information Age
March
Best Color
Editorial Layout/Consumer
Bend Living
Kashmir Journal: Hell and Hope
February
Best Table of
Contents/Trade & Consumer (TIE)
Meetings West
February
Best Table of
Contents/Trade & Consumer (TIE)
Fit Pregnancy
December/January
Best Single
Editorial Illustration/Trade
Government Technology
How it Works
July
Best Single
Editorial Illustration/Consumer
Macworld
Game Hall of Fame
January
Best Single
Editorial Photograph/Trade
Emmy
What Lies Beneath
June
Best Single
Editorial Photograph/Consumer
Sunset
Death Valley Journey
November
Best Single
Editorial Enhanced Photograph/Trade & Consumer
Muscle & Fitness
Get 25% Stronger
September
Best Series of
Editorial Photographs/Trade
Emmy
Return of the Dove
October
Best Series of
Editorial Photographs/Consumer
Sactown
In Harm's Way
June/July
Best
Cover/Trade
After Capture
December/January
Best
Cover/Consumer
Edutopia
October
Best Overall
Design/Trade
Lore
May/June
Best Overall
Design/Consumer
Sactown
April/May
Special Theme
Issue/Trade
Government Technology
December
Special Theme
Issue/Consumer
Diablo
November
Best Media
Kit/Trade & Consumer (TIE)
RTC
2007
Best Media
Kit/Trade & Consumer (TIE)
Journal of Emergency Medical Services
2007
Most Improved
Publication/Trade (Circ Under 50,000)
San Diego Physician
Most Improved
Publication/Trade (Circ. Over 50,000)
American Journal of Critical Care
Most Improved
Publication/Consumer (Circ. Under 50,000)
Paddler
Most Improved
Publication/Consumer (Circ. Over 50,000)
BWB
Most Improved
Annual, Semi-Annual, Three-Time or Quarterly/Trade & Consumer
The Big Sky Weekly Summer Visitor Guide
Best New
Publication/Trade & Consumer
After Capture
June/July
Meet the Author
---