UPDATED: UBM Resurrects BYTE Brand

Vintage title relaunches, with some original columnists and a new digital look.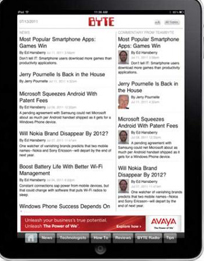 UBM TechWeb is reinventing a vintage brand with the relaunch of BYTE, one of the original major publications on computer technology launched in 1975; it will now be transformed into a digital tablet magazine with an interactive website.
The brand's content will now target consumers and IT professionals. While the topics approached in the renewed editorial coverage differ from the theme of the original BYTE, familiar writers will still be generating bylines—original BYTE columnists and contributors have been reinstated in the 2011 version.
"The official position of BYTE is all about the consumerization of IT," says David Berlind, UBM chief content officer for the title–he helped reintroduce the idea of its revival. "If you think back over the last three to five years, the most significant advances to come to business and enterprises has not come from an IT department but the consumer tech world. It's a significant movement."
While the revival is new, UBM TechWeb has owned the property since the mid 1990s, closing down the title as the new century approached and letting the brand name sit on the shelf until the time was right. Originally owned by McGraw Hill before UBM, in its heyday BYTE competed with publications like PC Week, PC Magazine, Information Week and Windows Magazine.
"They all aspired to be like BYTE," says Berlind. "For a long period of time it was the go-to publication for anyone who was very technical and wanted extreme depth in a variety of technical areas, specifically related to computing. We're not going to be so broad based as the old BYTE was."
UPDATE: According to former BYTE editor Paul Schindler, in May of 1998 CMP, now UBM, bought BYTE magazine from McGraw Hill and abruptly closed it at the end of the same month. The website, though broken and never update, drew 600,000 page views a month, says Schindler, along with bundles of angry emails.
In March of 1999 CMP revived BYTE as a Web-only BYTE.com. Schindler was the editor and was succeeded by Daniel Dern, who acted as executive editor.
In April 2001, BYTE.com became a division of Dr. Dobbs Journal website, and Schindler shifted to another division. In October 2001 Dern was laid off as executive editor.
It is not clear when the BYTE.com site officially went dark and was put on the shelf–Berlind will be releasing more history as it becomes available.
In 2011, however, Berlind says the group started seeing a growing popularity on business sites for consumer technology devices and services, prompting the company to take service.
"If you looked at our traffic we started to see a real interest in consumer technology that we really hadn't seen before," he says. "Every time we wrote about something more consumer related our business audience would jump all over it so we thought now would be a good time for us to carve out a special site that's dedicated to the category."
Gina Smith, an industry author, journalist and network TV correspondent, will act as editor-in-chief. The new audience for BYTE is people who actively engage in IT services—people, as Berlind says, that have a BYOT (bring your own technology) attitude that's independent of their corporate IT departments. Another part of the audience would be individuals working in an IT department who may have concerns about corporate computer security.
"If you took your iPhone and connected it to your corporate email servers and the company standard was to connect with a BlackBerry," problems could arise, Berlind says. "If you lost a BlackBerry the IT department could access it remotely and wipe it out, protecting any potential company secrets or intellectual property that would be on that BlackBerry's email. With an iPhone, they can't do that—security is a really big issue."
BYTE will also tackle other challenges IT professionals are facing and how to grapple with these new trends. While the topics will differ from that of the original BYTE, the CCO says, "We want to offer the level of technical detail that it was known for and we're going to try and stay true to that heritage."
The heritage will most definitely come through—the founding editor of BYTE, Jerry Pournelle, originally wrote a column in BYTE called "Chaos Manor." He will return to write the same column for the new magazine. Other original writers will also be reinstated.
BYTE editorial coverage will be accessible through commentaries, slideshows, Web casts, BYTE TV, BYTE Radio podcasts and discussed on the interactive discussion forum, Team BYTE. Berlind says it's still to early to tell what the iPad edition and Web site's reach will be.
There are no plans to bring it back in print.
This is the second brand revival for UBM. The company's Everything Channel recently relaunched Comdex as a virtual event. Comdex's last physical event was in 2003.
Berlind says that this is not a larger strategy to revived shelved brand names.
"When there's a brand sitting there with a huge amount of equity [someone may say] let's use that for this particular effort," he says. "I don't know of any specific strategy to hunt through our portfolio and look for dormant brands with brand equity and relaunch them. It's based on market need—if we see a rising need for information based on a particular market it's good for business to go and address that need if it's in our wheelhouse. The consumerization of IT—that was definitely in our wheelhouse. It just felt right."
Meet the Author
---