Two Design Titles Fold

Closures mark WebMediaBrands' exit from print publishing.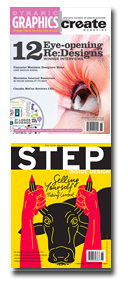 WebMediaBrands, the company formally known as Jupiter Media, has closed its two bi-monthly design magazines: Dynamic Graphics+Create and Step Inside Design. For now, their respective Web sites will still be produced.
Eight of the nine employees who produced the magazines were eliminated, CEO Alan Meckler told FOLIO:. The closures effectively mark the company's exit from traditional print publishing.
"With the economy as it is, and how our business has shifted mostly online, we felt now was a good time to move these titles online," Meckler said. "Ninety-eight percent of the revenue from those magazines was from online, so it made sense."
Before the shutterings, WebMediaBrands had planned to fold Dynamic Graphics+Create and Step Inside Design into one print magazine called Create, Meckler said. The magazines carried circulations between 20,000 and 25,000. Each sold roughly 3,000 newsstand copies per year.
Meckler said he hopes to finalize an acquisition of a design-related Web site as early as this week.
Last fall, the company agreed to sell its online images business, Jupiterimages, to digital photograph and online media powerhouse Getty Images, for $96 million in cash.
Meet the Author
---