TVGuide.com Launches Social Television App

The app already has 1.5 million users actively engaging content.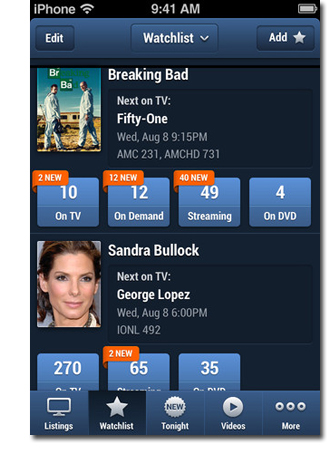 TV Guide Mobile has launched a new app for iPhone, iPad and iPod touch that connects users to multiple interactive features. The app is designed to assists users in finding, sharing and watching television programs on mobile devices. And offers social integration tools that encourages users to connect and engage in dialogues about their favorite shows.
TVGuide.com says that its online traffic exceeds 25 million unique visitors each month, and that its new app has already been installed more than 7 million times. Of those installs, TV Guide classifies 1.5 million as "active users."
The app integrates a number of social tools, like its Watchlist, which allows users to add favorite titles and receive information on when, where and how they can be accessed. To date, more than 585,000 users have created a Watchlist for in-app use.
Also, there is the New Tonight Trending, a daily trend report that tracks what shows are hot among the app-user community. Additionally, users can instantly view programs through both subscription and non-subscription channels like ABC, Crackle, Hulu Plus, HBO GO, and iTunes. TV Guide executive vice president and general manager of digital, Christy Tanner says that with these utilities, "TV Guide is making it simple again," adding that there is "no other product as comprehensive, personalized and innovate in the marketplace today."
TV Guide's new app is in line with the emerging trend of interactive content. The concept of social television essentially offers an alternative to focus group studies and traditional rating systems. When users engage in the social features they are effectively indicating what they like and what they don't like, and often in real-time. The app is also tailored to generate revenue. Tanner says revenue is driven from "advertising and bounties derived from linking users to paid sources of video." What is also important to note is that the medium enables advertisers to offer interactive content, which not only promotes more brand awareness, but also provides instantaneous feedback on a product or appeal.
Meet the Author
---