Turner Takes Over Business, Sales Ops at SI.com

Partnership 'expands advertisers' reach' across platforms.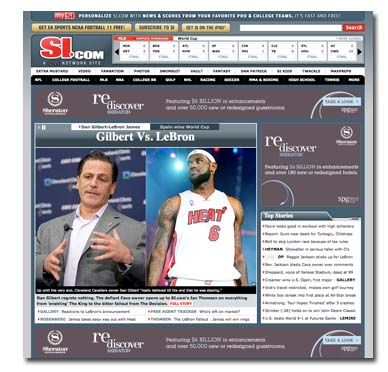 Time Inc. and Turning Broadcasting Systems' Turner Sports have formed a partnership that has Sports Illustrated creating all editorial content for SI.com while Turner Sports takes oversight of the business and tech operations, ad sales and marketing for SI.com and Golf.com. The companies will collaborate on multiplatform sales as well as creating new multiplatform products and applications.
According to TBS sales, distribution and sports president David Levy, the agreement reflects both companies' "commitment to bring fans greater content." "The deal also provides greater opportunity for advertisers to expand their reach and activate innovative marketing opportunities to access more potential consumers across multiple platforms," he says. "By leveraging Turner's vast digital sports and entertainment portfolio, we expect to provide additional display, sponsorship and video advertising opportunities for SI.com and Golf.com."
Turner Sports' digital portfolio includes NASCAR.com, PGATour.com and PGA.com, among others.
A Sports Illustrated Group spokesperson says the deal still allows the publisher to sell bundled advertising deals across the Web site and print magazine. The spokesperson says the companies are still hashing out how current staffing will be affected.
SI.com and Golf.com—saw a 16 percent spike, year-over-year, in unique visitors in April, Time Inc. told FOLIO: recently. SI.com specifically saw unique visitors in April climb 17 percent year-over-year, while year-to-date uniques grew 30 percent. Revenue at SI Digital also is on the rise, the company said, having grown 35 percent year-over-year.
Meet the Author
---