Turn and Burn or Passing the Torch?

Are recent changes at PE firms natural evolution or a sign of trouble?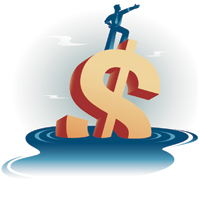 While no one wanted to admit that the market at the time was in a state of recession, the consensus among speakers and attendees at DeSilva + Phillips' annual Dealmakers Summit earlier this year in New York was that the economy would get worse before it got better. They were right.
Since the conference in February, stocks have plummeted due in part to the slumping housing market and to skyrocketing crude oil prices. Possibly more telling (and more worrisome) are the dwindling workforces at financial powerhouses like Goldman Sachs Group and Morgan Stanley. The worst is ailing Bear Stearns, which reportedly reduced its workforce by about 66 percent (Stearns in March agreed to be bought by rival JP Morgan Chase & Co. for $240 million—or just $2 per share, a 90 percent loss to what the company was worth a week before the agreement).
"What we need to worry about are the credit markets," says CCMP Capital Advisors managing director Michael Hannon. "If the credit markets shut down then magazine deals just won't go through. There was a time when you'd get 8x leverage on a magazine deal. Now, it's more like 5x. In fact, there was a point when creditors didn't want to lend even at 5x. In the credit system, that's the equivalent to a heart attack."
A Changing Private Equity Landscape
As 2008 nears the fiscal halfway mark, eyes around the magazine publishing industry are looking toward the health of its private equity firms. Over the last couple of years, a number of groups—including Boston Ventures, the Wicks Group and Alta Partners—have seen dramatic changes in the make-up of their private partnerships, as their founding partners have departed and associates and principles have moved up to partners and managing partners. Do these shake-ups represent inner turmoil at these firms, or are the founding partners simply passing the torch?
"It is common that the composition of private equity partnerships change over time," says VSS Secured Capital partner Hal Greenberg. "This was the case years ago at GTCR, Hallman & Friedman and Tommy Lee, and is the same today. If partnerships like Boston Ventures, Wicks or Alta Partners are now changing, it isn't worrisome."
Boston Ventures was founded in 1983 and today is headed by a team of four partners and principles but the firm's senior partnership departed within the last couple of years.
"Boston Ventures had, all at once, some of their senior partners depart," one knowledgeable source tells Folio:. "When you have institutions looking to invest their dollars, they still like to have grey hair at the table. They just do. It's not necessarily a significant challenge for them since they raised their fund and will put it to work rapidly to produce returns that are attributable to the new partners."
Some, however, see the changeover as reflective of poorly performing deals from Boston Venture's previous fund. "Generally, there were some funds that were put to work in 1998, 1999 and 2000 that, frankly, because of 9/11 and the recession, didn't turn out so great," says another source. "In the case of Boston Ventures, the new fund that they have raised (about $400 million), which closed about six months ago, is about half the value of the previous fund due to that fund's poor performance. When you have a smaller fund, you need to reduce the partnership proportionally." One of Boston Ventures' better deals was the sale of its minority stake in World Publications to the Bonnier Group in May 2006. In 2001, observers questioned its acquisition of Northstar Travel Media, which Boston Ventures put back on the block this spring.
The fact that private equity founders are looking to move on can sometimes be a positive thing, according to Oakstreet Media CEO and former VSS managing partner Tom Kemp. "Private equity is a relatively new business, having started 20 to 25 years ago," he explains. "The guys who started some of the original groups like Boston Ventures were 45 years old or so at the time and now are 65, 70 years old. What's happening with private equity partnerships right now is the natural progression and transition from one generation of partners to the next."
Whether it's because of poorly performing funds or personal decisions, some private equity groups falter and break up. New York City-based Seaport Capital is said to be breaking up as a partnership. Seaport invests in private companies with market capitalizations between $20 and $100 million and equity needs of $10 to $35 million. In February, Seaport sold Virgo Publishing to Arlington Capital Partners for an estimated $100 million.
"These things happen, especially to relatively small partnerships," one source says. "For whatever reason, partners decide to go their separate ways and start their own funds and new companies." Seaport Capital did not return requests for comment.
"Generally speaking, private equity founders are entrepreneurial by nature," says Greenberg. "The fact that they move on after a successful run is common."
Growth Prospects Will Drive Market
As private equity firms navigate their partnership transitions and begin managing smaller funds, industry players and observers are left wondering how magazine M&A will play out over the next year.
"These partnership changes will have a negligible impact on media M&A," says Seth Rosenfield, a director at BMO Capital Markets. "What will drive the market for the PE investor is leverage and growth prospects. The media business has proven that you can invest in companies below $10 million of EBITDA, between $10 and $30 million EBITDA, and north of $30 million EBITDA. Whether they have big funds or small funds I don't think it will have an impact."
According to Kemp, private equity firms may start to hunker down, holding onto properties longer (at least in the short term) and manage their portfolios hoping that the cycle will change. "The basic business private equity model is still very attractive and returns overall have been good," he says. "We'll see lower- to mid-market funds continue to be most active. While you can finance a $100 million now, the real trouble is with the $1 billion deals. They're just not happening."
Meet the Author
---