Publishers Monitor Trucking Shutdown

Protest triggered by fuel costs has yet to disrupt magazine distribution.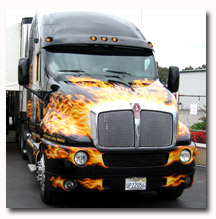 Magazine publishers have plenty to worry about: rising paper and production costs, postal rate hikes, and, of course, the looming recession. A trucker strike wasn't one of them.
A large number of truckers have threatened a "shutdown" this week to draw government attention to the soaring cost of diesel. Yet aside from closely monitoring the situation, publishers and their printing vendors—for the most part—are confident of little to no impact on magazine distribution.
According to various news reports, the majority of the drivers threatening a work stoppage are believed to be independent contractors, or owner-operators. The total number of truckers involved is unknown.
"My staff and I are always on top of all pending news that may effect our magazine distribution," says Jim Pizzo, senior director of distribution at United Business Media. "From everything we have heard and reviewed with our freight forwarders, a strike is too harsh of a term for what the independent truckers are planning to do."
Others are being a bit more cautious in their assessment. "The overall impact of this shutdown, assuming the event is fully carried out, will not be known for some time," Quebecor World's Ron Sing wrote in an e-mail to its printing customers. "It is expected to have an evident impact considering the already destitute condition of the industry."
Tom Fox, VP manufacturing and technology at American Express Publishing, is less concerned but does note that another surcharge could aggravate an already stressed cost structure. "Outside of a quick news story on driver unhappiness over diesel prices and the threat of an 'action,' I really hadn't heard anything about it. The broader question in any event is as fuel prices continue to rise and especially diesel prices, how would another surcharge add to the already steep woes of many magazines? But to be honest, I'd say it is being watched from a distance, at best, here."
In a letter to clients, Donnelley Logistics Services had this to say (note the use of social media to stay informed):
"Donnelley Logistics Services (DLS) was made aware of the possibility of this current shutdown in mid-March 2008. Immediately, DLS began to monitor transportation websites and related web-based message boards to validate the claim. DLS sent a communication to our top 25 vendors advising of the rumor, asking the carrier's position on the shutdown and ultimately asking if the carrier planned on participating if a shutdown took place. The unanimous response returned was that they were aware of the shutdown rumor, they did not condone or support the strike, and they did not plan on taking part if a shutdown occurred."
The letter goes on to say that as of April 1, a few instances of "shutdown activity" were reported around the country—truckers driving slowly on interstates, blocking traffic at intersections and gatherings at fuel stations. DLS says it continues to monitor the situation by regularly reaching out to its vendor network, but did not indicate any impact on its distribution efforts.
"For now UBM LLC will pay close attention to this situation as it develops, [but] at this time we are assured that this situation will not affect our magazine distribution," says Pizzo.
The length of such a slowdown is still unknown. "Some are calling for the shutdown to persist until the problem is fixed, while others believe that even a single day of strike may have a potential effect on the economy," said Quebecor's Sing in his letter.
According to the American Trucking Association, the industry projects to spend $135 billion on diesel fuel this year—$22 billion more than last year. The average price of a gallon of diesel fuel hit $4.02 last week. The ATA and other groups are urging the Bush administration and Congress to take steps to reduce fuel prices.
Meet the Author
---