Tricia Clarke-Stone

Director of Integrated Sales | Emmis Interactive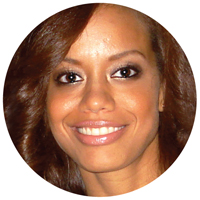 Beginning in radio sales for Emmis Communications, Tricia Clarke-Stone later launched the company's Interactive Division in 2002.
Over the past five months, Emmis Interactive has taken to working with Emmis Communication's publication sales teams. "Moving into the print world has been an easy transition because sales teams are accustomed to selling a visual medium—but we do have to train them on the interactivity and custom brand experiences that the digital space delivers," she says.
After seeing high numbers on its popular station Hot 97, in the New York area, with 3.5 million page views and 420,000 unique visitors per month, and a mobile SMS database of close to 100,000 subscribers, it makes sense that Emmis' radio sales model should convert to online.
"While most online advertising is sold on a CPM model tied to display ads, Emmis Interactive has adapted a model that focuses on geographically and demographically targeted Web sites like for a radio station and a local/regional publication," she says. After only working with Emmis Communications' publications for a short period, Emmis Interactive has seen increased site traffic and advertiser interest. Some publications are projecting more than a 40 percent increase in digital sales for 2009.
Part of the training that Emmis Interactive does is an initial two-day sales immersion training about the philosophy behind selling integrated packages and getting sales people comfortable with the new inventory.
Last summer, Emmis executed a multi-platform campaign for an automotive company which included on-air mentions, on site events, distributed decoder cards that offered a Web link to a custom microsite, sweepstakes, and an online registration form. The client sold 27 vehicles during and after the three-month program throughout the Midwest and Chicago.
VITAL STATS: With certain publications, Emmis Interactive is projecting more than a 40 percent increase in digital sales for 2009.
Meet the Author
---