TransWorld Snowboarding

Ozzie Winner: Best Cover, Consumer, Under 250,000 Circ.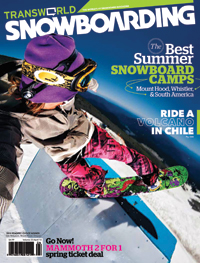 TransWorld SNOWboarding is the longest-running snowboarding magazine in the world and is published by Bonnier Corp. The editorial mission is to inspire and motivate readers to get out and ride. Top-notch photos are an important distinguishing feature of the magazine.
"This cover stood out for us because it really captures what we try to do at TransWorld, which is to bring our readers inside the action and to get them excited about riding," says Annie Fast, editor-in-chief. "Everything great about snowboarding—from the environment, the action, and the lifestyle—is captured in this one in-your-face shot that brings them right in on the action and keeps them excited about riding, right through the springtime meltdown."
Norwegian photographer Frode Sandbech worked with Icelandic rider Eiki Helgason to capture this daring first point-of-view shot at the height of Helgason's trick in Mt Hood, Oreg. Helgason held a Canon 5D camera and the photo was triggered remotely by Sandbech with a PocketWizard wireless triggering system. Helgason's trick is called a "blunt-to-fakie," which mean's he's stalled on the snowboard and turned backwards.
"Two years ago, the photographer experimented with getting the snowboarder to trigger the camera while doing tricks," says Nick Hamilton, director of photography and video. "It's been a long project in the works."
Hamilton says they needed the right kind of trick that would still work on a magazine cover with blurbs and spacing constrictions. And, the photographer has to trust the snowboarder to hold a $3,000 camera in his hands while completing a trick. "We knew it was going to be the best shot once we saw it," says Hamilton.
The difficult part for the rider isn't holding the weight of the camera, it's holding it in the right direction while not breaking a leg at the same time, says Hamilton.
"We're definitely planning on trying more [shots] like these again. For TransWorld SNOWboarding covers we try to pick covers that are out of the ordinary and that get your attention," he adds. "We like to experiment with different vantage points and lighting."
Meet the Author
---