Tracey Ryder & Carole Topalian

Co-founders, Edible Communities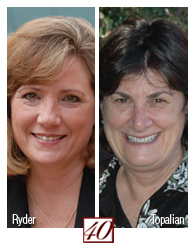 In the spring of 2002, Tracey Ryder and Carole Topalian, owners of a success graphic design and marketing firm, launched Edible Ojai, which focused on local foods in Ventura County, California. The magazine sparked a nice local response but business consultants and even other publishers didn't grasp the model. "They basically patted us on the head and said 'You're doing a great job with Ojai but we can't help you,'" says Ryder.
After becoming acquainted with D. Hawk-founder of the Visa card-the two developed a hybrid Visa model in which franchisees could launch their own Edible publication.
Today, Edible Communities features 50 titles ranging from Edible San Francisco to Edible Shasta Butte. Licensees pay more than $90,000 to buy in (one-third upfront, the rest financed over five years) and agree to certain conditions, such as being four-color, publishing a certain size of folio and publishing at least four times per year. Franchisees also kick back a royalty fee of 5 percent of the total ad revenue for their magazines.
Participants receive training (ad sales, production, distribution) and can fall back on the experience of their affiliates. Each magazine has a supporting Web site while the national site has a blog. In 2008, Edible Communities is looking to ramp up its online component, including peer-to-peer content.
Edible Communities became profitable in the fourth quarter of 2006 and in 2007, it reached $1 million in sales. "We've received a lot of interest about acquisition and we heard from three major media giants," Ryder adds. "We did consider it with one but we're not at that point yet. I won't say it won't happen in a few years but right now it doesn't make sense."
VITAL STATS: More than 50 publishers are paying more than $90,000 to join the Edible Communities.
Meet the Author
---