Top Deals of 2007

A look at the year's most significant mergers and acquisitions.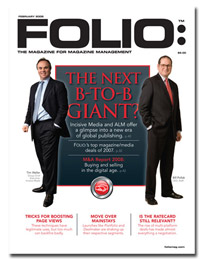 After consecutive years of record-breaking media deals (both in volume and value), there are finally signs that the industry is cooling slightly. The credit market, so favorable to many of the jawdropping multiples seen over the past two years has tightened up considerably. Private equity, which has dominated the media M&A landscape, may be pushing back from its buying binge, leaving strategic buyers to pick up the slack. And a magazine industry that already expected a continuing flat-todown trend in print revenue in 2008 braces for a recession. Still, in M&A terms, 2007 had several market-defining moments. A strong start in both volume and value yielded to a fourth-quarter stall and the strategics laid the groundwork for their likely 2008 comeback, according to a report by DeSilva & Phillips.
However, one area in which 2007 remained strong throughout was a trend of traditional media companies buying new media and digital niche players. Publishers ranging from consumer heavyweights like Hachette Filipacchi, Hearst and Meredith to b-to-b publishers like CMP sought to expand not only their technical infrastructure but also buy skill-sets that could be integrated throughout their existing operations.
In FOLIO:'s 2007 Top Deals Report, we identify 10 acquisitions we deem to have the most significant impact on the publishing industry. These are not necessarily the largest deals according to price, but transactions that will have a lasting effect, ranging from long-expected sales of several legacy publishers to the entry of aggressive European players into the U.S. to the shift in digital media acquisitions. This year FOLIO: has expanded its coverage to include not only summaries of the top deals, but an M&A report that examines the changes digital publishing is having on media M&A, as well as what that means for owners preparing for their own sale.
The Top Deals of 2007
Gemstar-TV Guide
ALM
Time4 Media
Advanstar
Interactive Deals
Ziff Davis Enterprise
Clarity Partners/Modern Luxury
Summit Business Media/Wicks Business Information
Ascend's Divestments
Primedia Enthusiast
Meet the Author
---