Top 5 March Boxscores

Vanity Fair Takes Fashion Mags on Ad-Page High.
[This story originally appears on Folio: sister site Minonline.com]
When min released editor-in-chief Steve Cohn's Spring Women's Fashion/Beauty Review, the writing appeared on the runway wall.  March 2012 was a successful advertising season for almost all the fashion mags compared with last year, and the publishers were enthusiastic about 2012.  In fact, four of the top five monthly magazines in March (out of 150 mags tracked in min) were on the runway based on highest advertising gains: Marie Claire (+42.95 additional ad pages in 2012 compared with 2011), W (+40.65), InStyle (+38.22) and Harper's Bazaar (+37.20). The top ranking monthly, however, was Vanity Fair's celebrity-driven gatefold Hollywood issue, which scored highest with an increase of 44.09 ad pages.
Crunching the 150 monthly boxscores numbers, we found first quarter 2012 showing a meager -6.32% with only 34 of these mags showing ad-page gains. March alone fared -2.85% with only 66 showing improvement in 2012
Here is the top 5 chart.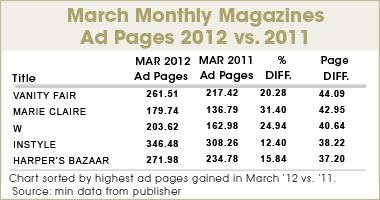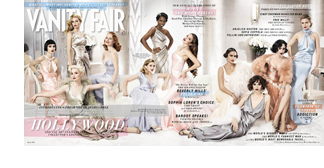 1) Vanity Fair
Although the entire Vanity Fair ad staff is in Los Angeles for "Campaign Hollywood" ahead of Sunday's (Feb. 26) famous Academy Awards dinner and after-party, we were able to track down VP/publisher Edward Menicheschi to talk about the successful Hollywood issue that reached the top slot in min's monthly magazine ad-page chart. Edward Menicheschi credits the increase "to significant [growth] in all luxury sectors of the business…especially retail [Neiman Marcus, Nordstrom, Barney's], fashion [Versace and Juicy Couture], beauty and automotive." Also, two of the biggest advertisers are "Campaign Hollywood" co-sponsors Chrysler and L'Oréal Paris.
Vanity Fair's Hollywood (launched in 1995) is now on mobile app, the iPhone, iPad and Android Smartphone—all allowing users to vote for their favorite Oscar nominees and share their picks with friends on Facebook and Twitter.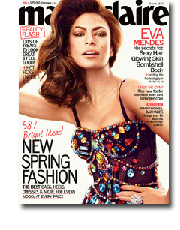 2) Marie Claire
VP/publisher/chief revenue officer (since Dec. 2009) Nancy Cardone celebrates the 18-year-old Marie Claire's largest March ever with ad pages +31% versus 2011 and +51% versus 2010. "Growth in the core categories of fashion/retail/luxury (+25%) and beauty (+31%) was driven by increased business from current partners [i.e., Estée Lauder, Dior] and new business [i.e., Louis Vuitton, Bulgari], including an exclusive 10-page multi-brand LVMH fashion/luxury unit off the second cover," she says. "The issue also saw strong momentum in the lifestyle category [automotive, financial, and technology] reflecting the multifaceted interests of our readers."
3) W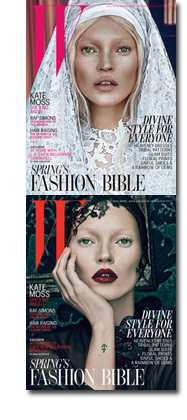 W's March spring fashion issue was a split cover with Kate Moss—half as "Good Kate" and half as "Bad Kate," shot by photographer Steven Klein. According to editor-in-chief (since March 2009) Stefano Tonchi: "As I sat through the spring collections in New York, London, Milan, and Paris, I kept thinking about the dichotomy between 'good girls' and 'bad girls.' It's an old trope that the fashion world loves to recycle every few seasons: vampy women wear tough leather and menacing heels, while their angelic alter-egos float by in airy chiffon dresses, embroidered slips and eyelet shifts. This season, however, the good girls seemed to constantly stray into bad-girl territory, and vice-versa. Designers are too savvy to go for straightforward clichés, and what I found most interesting was the way in which they tweaked familiar archetypes."
"Stefano Tonchi's W is a big success. We just experienced our strongest first quarter ever [up 17%], and our growth is accelerating on all fronts. Not only did we have a strong March, but we also had a strong February and [just closed] a exceptional April with ad pages up 36%," says VP/publisher (since March 2005)  Nina Lawrence.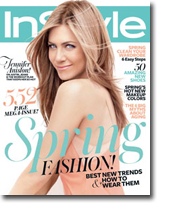 4) InStyle
InStyle publisher (since Jan. 2009) Connie Anne Phillips tells min that "my powerhouse team has increased ad pages in March for three consecutive years, adding a total of 154 ad pages to the March issue since 2009. The growth in 2012 can be attributed to a 33% increase in luxury and a 64% increase in beauty." Advertisers new to the March issue include Yurman, Missoni and Nordstrom.
 5) Harper's Bazaar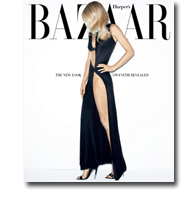 VP/publisher/chief revenue officer (since May 2011) Carol Smith tells min about HB's success. "I know our advertisers like seeing us embracing our heritage at the same time that we're really modernizing everything, from the size of the magazine and the look and feel of the pages, because all these changes make a marketer's message more powerful.
"The March issue was the beginning of the transformation, and fashion and beauty brands wanted to be a part of it: we had new business from Tom Ford Fashion, Hervé Leger, David Webb, Alberta Ferretti and Alexis Bittar and for beauty, RéVive and Nexxus," says Smith. "Things are looking good for the rest of the first half as well. We're growing our core business,and bringing in new categories and brands that want to speak to our 3 million readers–every one of whom I just know is smart, accomplished and sophisticated."
See the premium March 2012 boxscore chart of 148 monthly magazines and quarterly timeline in min's February 20 issue.
Speaking of fashion, have you taken min's What is your Fashion magazine personality survey? What mag are you?
Meet the Author
---