Todd Tauber

Director | Corporate Development | The Economist Group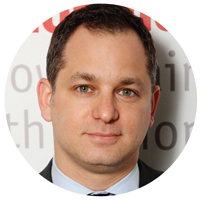 Four years ago, The Economist Group hired i-banking, M&A-savvy Todd Tauber to take the reigns of its corporate development. "When I was hired, my goal was to grow in the U.S. through acquisitions," he says.
The publisher of international business news has always focused on paid offerings, beginning its slew of acquisitions with the purchase of Roll Call in 1992. The print entity, with a total qualified circulation of more than 18,600, offered free access to those who work and serve on Capitol Hill, but paid circulation, mainly from lobbyists, associations, corporate government affairs professionals and the media, is over 5,900. "What we have done with Roll Call is find ways to increase exposure to subscription revenue streams—more secure, repeatable. It has always had some paid subscriptions, and we've been growing that," says Tauber. In 2004, the group upped Roll Call's frequency from one to four days a week when Congress is in session in conjunction with the growing legislative issue advertising market.
However, Tauber stresses, "It's not just about Roll Call. Circulation revenues are a good chunk of the business." GalleryWatch was acquired in 2006, increasing exposure to more stable, renewable subscription revenues, says Tauber. In 2007, GalleryWatch, which is 100 percent subscription revenue, launched two new subscription services—real-time newswire CongressNow and a policy intelligence database, Briefing Room.
Recently, the group acquired Capitol Advantage for $43 million, an online technology software solution that helps U.S. corporations and trade associations organize and mobilize grass roots campaigns. Capitol Advantage is mainly a subscription software, although they also sell printed congressional directories.
Over the past five years, the Roll Call Group (the name associated with this stable of paid offerings) has tripled its revenues, with subscriptions going from less than 10 to nearly 50 percent.
VITAL STATS: The Roll Call Group has tripled revenues and increased subscriptions 40-plus percent.
Meet the Author
---