Time Warner Reports Flat Q1 Earnings

Company eyes online growth, plans to spin off cable unit; Time Inc. flat.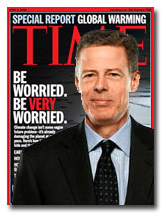 Time Warner this morning reported its first-quarter corporate revenues at $11.4 billion, up 2 percent over the same period in 2007. In its publishing group, Time Inc.'s revenues declined slightly from $1.048 billion in first quarter 2007 to $1.045 billion this year. While print advertising revenues fell, the company is looking toward online revenues to remain the focus for tangible growth.
The big announcement of today's earnings call was a decision to begin the process of spinning off the cable group. "We have now decided, under the right circumstances, a complete structural separation is in the best interest of both Time Warner shareholders and Time Warner cable shareholders," Time Warner CEO Jeff Bewkes said during the earnings call. "We just believe that the two entities would be more valuable if separated rather than kept in the current structure."
Meanwhile, according to the company's earnings release, revenues for Time Inc. included 3 percent growth in subscription revenues, which were offset by a 1 percent decrease in advertising revenues. The subscription increases benefited from higher newsstand sales.
The decrease in ad revenues were attributed to the 2007 closures of LIFE and Business 2.0. In fact, in today's earnings call, Jeff Bewkes noted that the publishing group "is the one business that we're currently seeing a negative impact from the economy on. But even with this added pressure, Time Inc.'s online ad revenue grew fast enough to offset the decline in print advertising."
During a February conference call, Bewkes downplayed
speculation
of a sale of the Time Inc. publishing division.
The automotive and pharmaceutical ad categories in particular are expected to continue to be problematic for print in the coming year.
Online was the sole highlight for the publishing group noted in the earnings call. Ad revenues for that segment increased to $20 million, led by People.com and CNNMoney.com.
While operating income before depreciation and amortization (OIBDA) grew 73 percent to $145 million and operating income jumped significantly from $38 million to $93 million for the quarter, it seems, for the time being, that Time Inc. has hit the ceiling in cost savings. "Although Time Inc. continues to aggressively manage its costs, we don't expect the same degree of cost savings for the remainder of the year. Consequently, achieving OIBDA growth for the remaining nine months will be challenging," said CFO John Martin.
Digital is clearly the focus in the immediate future. "As we continue to take our entire magazine portfolio and move it into digital, we think that the growth rates in that business can be quite healthy and can overcome what may be the flatness in print over time," Bewkes said.
Meet the Author
---