Time Warner CEO: We Can Grow Time Inc.

Bewkes downplays sale talk, confirms possibility of AOL spinoff.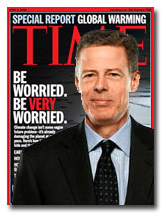 During a conference call this morning, newly-installed Time Warner CEO Jeff Bewkes confirmed that the company may sell its struggling AOL business and spin off more of its cable unit, but downplayed speculation of a sale of its Time Inc. publishing division.
"We're good at publishing. We're a leader in the industry. It's a good business we think. As it expands out beyond print into digital we think it can turn into a growth business," Bewkes said, adding that keeping Time Inc. intact "depend[s] on our being able to demonstrate that to ourselves and our investors."
Shares of Time Warner were up nearly five percent Wednesday morning.
Overall revenues for the company for full-year 2007 rose six percent over 2006 to $46.5 billion. That increase came primarily from better performance out of the cable, film and network segments. The publishing group remained flat at $4.95 billion, leading to essentially the only comment of the call regarding this group: "Time Inc. is the one business we've seen ad softness due to the overall economic environment," said CFO John Martin. "This somewhat limits our vision into the rest of the year. But we expect to focus on key titles, driving digital initiatives and controlling costs."
Industry observers have told FOLIO: they expect Bewkes to make "serious moves" at the company within the first 10 months of his tenure as chief executive. Bewkes, the company's former COO, was named CEO late last year, taking over for former Time Warner chief Dick Parsons on January 1.
Check FOLIOmag.com throughout the day for updates to this story.
Meet the Author
---