UPDATE: Time to Publish Commemorative Kennedy Issue, Book

Under tight turnaround, special issue to honor life of longtime senator.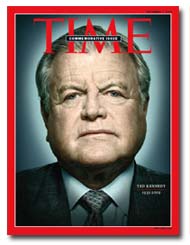 American politics lost its "liberal lion" Tuesday night when longtime Massachusetts Senator Edward "Ted" Kennedy passed away from a battle with a brain cancer. He was 77.
As expected, the media coverage surrounding Kennedy's death has been swift and dedicated. A number of news outlets, including several television networks, are planning special commemorative coverage of Kennedy's life and work.
Time is the first magazine I've seen step forward with plans for a special commemorative issue in print, which publisher Time Inc. said is set to hit newsstands Friday, August 28, under its normal shipping schedule.
The issue will feature pieces on Kennedy from Time columnist Joe Klein, as well as Bob Shrum, Mike Barnicle and longtime Kennedy family aide Ted Sorenen. It also will include a number of articles about Kennedy written by Time editors.
Over the years, Time has published commemorative editions about Barack Obama's election and the deaths of Princess Diana, JFK Jr. and others. A Time spokesperson said she didn't have details when I asked if this issue will have any special distribution.
A Kennedy Commemorative Book
In addition to the magazine, Time is publishing a 112-page commemorative book: Ted Kennedy: A Tribute. This is how Time describes it:
The book is an intimate portrait from his early years to his last days as the Lion of the Senate. His life will be told through never-before-seen photographs by photographer Ken Reagan of Kennedy at work, on the campaign trail and with family and friends.
With Kennedy's health deteriorating in recent months, I bet Time had been working on this well in advance. The book will be available for pre-order on Amazon.com and BarnesandNoble.com for $19.95, and on newsstands on September 4, for $13.99.
I'm sure this won't be the only Ted Kennedy commemorative work we'll see from magazines in the coming weeks.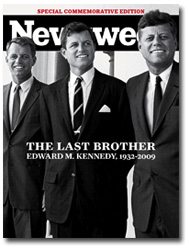 UPDATE: See? It appears that Newsweek also will be publishing a commemorative Ted Kennedy issue, on newsstands only starting this Friday.
The 99-page issue, called "The Last Brother-Edward M. Kennedy 1932-2009," will feature contributions from Senator Orrin Hatch, Senator Birch Bayh, author Burton Hersh and political commentator Neal Gabler, among others. The issue will remain on newsstands through November 30.
Meet the Author
---