Time Picks Fed Chairman as Person of the Year

Twitter, President Obama miss this year's honor.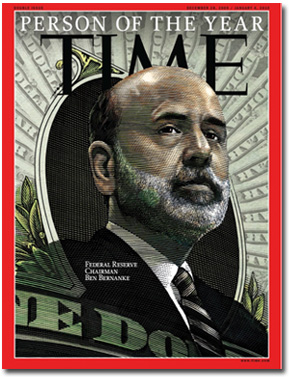 Two days ahead of its most anticipated issue of the year, Time magazine announced Wednesday morning that it named Federal Reserve chairman Ben Bernanke its Person of the Year. Time managing editor Richard Stengel announced the pick this morning on the Today Show. [See below for the video.]
Time selected Bernanke from  a list of other worthy candidates, including top U.S. commander in Afghanistan, general Stanley McChrystal; California congresswoman Nancy Pelosi; athlete/runner Usain Bolt; and the collective Chinese worker. According to Stengel, choosing Bernanke was clear since he steered the country through the recession, the "story of the year."
"History is composed not only of what happened but of what didn't happen," Stengel wrote in his editor's note. "We've rarely had such a perfect revision of the cliché that those who do not learn from history are doomed to repeat it. Bernanke didn't just learn from history; he wrote it himself and was damned if he was going to repeat it. Bernanke decided to do the opposite of what the Fed did back in the '30s: he would loosen the money supply as far as it would go, he would save as many banks as he could, and he wasn't going to hector the American public about pulling up their socks."
Bernanke takes the magazine's top honor following president Barack Obama, who was Person of the Year in 2008. Then-Russian president Vladimir Putin was Person of the Year in 2007.
After a debate among celebrity panelists last month about who Time should select, the economy and the founders of social media site Twitter were the top favorites.
The print edition of Time's 2009 Person of the Year issue hits newsstands Friday. It is online now at Time.com.
Visit msnbc.com for breaking news, world news, and news about the economy
Meet the Author
---