Time Out Chicago Eliminates Six Positions

Cuts attributed to paper costs and uncertain economy.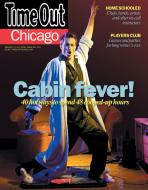 Time Out Chicago announced the elimination of six positions in its editorial, circulation and administration departments. According to editorial director Elizabeth Barr, the move was a cost-cutting measure that TOC editorial director Elizabeth Barr attributed to increased paper costs, a competitive advertising market and an uncertain economy.
The cuts come despite increases in circulation and advertising. Sales grew 25 percent in 2007, circulation 11 percent, according to Barr. "By taking a closer look at the bottom line, reallocating duties and eliminating duplication of workload, we have positioned ourselves for financial success in 2008."
Publisher David Garland says the magazine does not anticipate any more cuts. "This was a preemptive effort to keep ourselves as lean as possible against the continuing competitiveness and recessionary economy," he told FOLIO:.
Meet the Author
---