Face Up: Time Magazine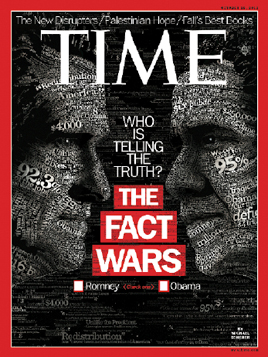 MAGSTATS
Issue: October 15, 2012 | Vol. 180, No. 16
Frequency: 56 Times Per Year
Circulation: 3,276,822
Launched: 1923
Publishing Company: Time Inc.
Design Director: D.W. Pine
Editor: John Huey
In an era of easy access to information, getting the facts straight has never been more important. That is one of the reasons 22-year-old artist Dylan Roscover was contracted by Time to illustrate the difficulties of finding the truth in a sea of information.
"Time gave me the copy of which quotes to use," says Roscover. "It was up to me to determine the hierarchy—which was more important from a visual standpoint. Time gave me a general, top-tier category of quotes that they wanted the most of, and the rest was filler. It was up to me to take it and execute it visually. It's an interesting challenge for each illustration."
Roscover estimates that the design took a total of 40 hours to complete. Time copy editors proofread each piece of type in the illustration.
"The copy desk gave me little changes to the copy to make sure it was ready to be printed on the cover," he says. "They gave me capitalization changes or commas, and I was responsible for executing all of those. It was an incredibly time-consuming process."
Roscover used the pen tool in Adobe Illustrator to create the contour of how the type would flow and in what direction. From there, the artist adjusted the characters—20 to 30 percent of every character in every word was adjusted.
"I used a photographic reference to get it as correct as possible," he says. "A portion had to be changed—the lighting of Barack's face had to be adjusted significantly so that it fit with Romney's or it would have looked very strange because it is such a complex style in terms of space and form."

DESIGNER'S COMMENTS
"Captivating. I've spent full minutes simply absorbing the cover and will, no doubt, spend more time actually reading it.
Great concept, beautifully executed. At a glance the cover telegraphs exactly what the message is and then holds us spellbound. 

Even with all the text-art, it is still a very readable cover—including the skyline with the light sans. The illustration is strong enough to hold up under the weight of the red border and boxes of bold type without interfering. Hats off to the (now cross-eyed) fact checking team at Time. I'm sure we'll see lesser executions mimicking this cover in the months to come."
- David Weaver, art director, Saveur
"As an artist, I am fascinated by the process with which this cover was conceptualized. However, as a viewer I am immediately overwhelmed by a seemingly infinite amount of information—all of it delivered in black and white text form. This causes the creative (or lazy) part of my brain to tune out and look for something easier to enjoy.

Also, since the designers have chosen to highlight/enlarge certain items like percentages, my brain yearns to make some quick visual comparisons between what the two candidates stand for. And yet upon closer look, it appears Romney's giant '92.3%' has to do with unemployment for working women, while Obama's '95%' is about tax cuts. Once I discovered the 'mirroring' items are completely unrelated, I accepted the fact that this cover would require too much of my attention to fully understand and appreciate."
- Nick Saglimbeni, publisher, WMB 3D: World's Most Beautiful
"Kudos to Dylan Roscover for the illustration on the October 15 cover of TIME magazine. Awesome use of type to illustrate the presidential candidates' profiles. As a designer, I appreciate the attention to detail that went into making this cover, including meticulously editing the copy to make sure information, punctuation and kerning are correct and flow with ease. Everything is set up to pull you into the center to read the headline; very nice, very impactful.
The TIME logo in white blends in a little at the logo's base, but the logo is so recognizable that it could be in reverse and people would still know it is TIME magazine, red border and all. 
Great branding!"
-Mark Rook, director, Creative Services, WTWH Media, Inc.

Have a unique "cover" story? Contact associate editor T.J. Raphael at traphael@red7media.com.
Meet the Author
---