Time Magazine's Mock Call of Duty Cover: Fair or Foul?

Newsweekly authorizes mock cover for distribution in retail store.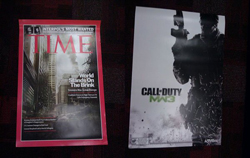 A mock issue of Time Magazine is appearing in GameStop stores as part of a promotion for Activision, which makes the shoot-em-up video game Call of Duty.
The cover image (which features Time's signature border and nameplate and a burned out Wall Street) is used in a mock poster for the game. This represents the first occasion a Time cover has been used to promote a commercial product, according to The New York Times.
"This is where the boys are," Time publisher Kim Kelleher told The New York Times. "This is a great way to connect with millions of people we might not have otherwise connected with."
Time editor Rich Stengel told The New York Times that the magazine's Person of the Year issue has featured fictional characters in the past and this isn't much different. "I see this as a similar idea in a different medium-a medium that is one of the biggest entertainment franchises around."
Most of the comments to The New York Times article aren't buying that. "Awesome, Time Magazine. Really awesome. Your previous 'landmark' covers have served as mementos for those who, oh I don't know, died on September 11th or won Nobel prizes," wrote "NdG Helmand." "Let us not forget, however, that most-important demographic: the American X-Box player. Wouldn't want to come up short in recognizing him for his accomplishment, which was to purchase a video game! This whole thing is consumerism and advertising at its worst, thinly veiled by the bogus guise of "reaching an untapped demographic. . . You know what would make me happy, Kim? If Time Magazine retained a shred of journalistic integrity instead of selling out to the fast-food consuming, instant gratification requiring, automatic approval seeking underachievers that make up this unfortunate generation of young Americans."
However, another poster says, "I think you are all ridiculous. This is smart marketing to link to a top selling franchise. This doesn't hurt Time's credibility – they didn't put this on an actual cover. Its a creative way to get press for a magazine and possibly introduce Time to a younger audience."
Sid Holt, CEO of the American Society of Magazine Editors, doesn't see a problem. "I rather feel like I am being asked to decide whether Orson Welles had the right to disguise "The War of the Worlds" as a newscast," he told FOLIO:. "Publishers are free to us their brands, including logos to promote consumer products. ASME does of course insist that the difference between editorial content and marketing messages must be transparent, but that principal applies to magazines and websites, not mock covers used to promote video games. I would be concerned if consumers had reason to believe that this was a genuine Time

cover, but as far as I can tell, neither is true–though of course the last time I played a video game Mott the Hoople was on the radio."    
Magazines have always been held to a stricter standard than other media when it comes to the ad/edit line, although the industry saw a flurry of highly public cover ads in 2009 including ESPN the Magazine, which featured a Gatorade ad flap that partly obscured the cover of its April 6 baseball preview issue; Scholastic Parent & Child, which featured a cover ad for a company called Smilebox that appeared in the lower right corner with the label "advertisement" in small type; Us Weekly, which ran a mock cover on its April 20 issue as part of a five-page ad for HBO's Grey Gardens; Entertainment Weekly, which ASME cited for a cover notch promoting an ABC television program on an issue; and Esquire, which featured a cover "window" that opens to an ad. And of course, who can forget XXL editor-in-chief Elliott Wilson appearing in a back cover ad in his own magazine for a clothing brand back in 2007?
The difference there is the cover ads were part of real issues, not a mock cover like Time's Call of Duty promo (however, a poll on FolioMag.com in May 2009 found that 51 percent of respondents believe any form of cover advertisement is a violation of editorial ethics, with 46 percent thinking cover ads are a legitimate business opportunity, while 3 percent weren't sure).
Marketing services and "brand journalism" are potentially the new hot moneymakers for magazine publishers, but that means the ad/edit line has to be enforced with even more vigor. Many publishers are creating entirely separate divisions to handle that type of work but often it's the magazine brand that's still the initial draw for many brands).
What's your opinion of Time's Call of Duty promotion?
Meet the Author
---