Time Inc. Reorganizes Fortune Small Business, Cuts 14 of 17 Editorial Staffers

AmEx: 'Time Inc. does not oversee our editorial direction.'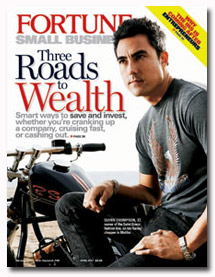 Time Inc. has eliminated 14 of 17 editorial positions at Fortune Small Business. The cuts come as Time Inc. transitions the magazine's editorial operations to its custom Content Solutions division, as first reported today by the New York Post. FSB, which is distributed to a million American Express credit card holders, had been published under Time Inc.'s Fortune-Money group.
Longtime Time Inc. staffer and FSM managing editor Dan Goodgame is among those leaving the magazine. Editorial director Brian Dumaine will remain in his role through the transition.
Time Inc. will attempt to place the affected employees in "appropriate positions" throughout the company, a spokesperson wrote in an e-mail to FOLIO:.
FSB had a rough first half as ad pages fell 14.3 percent, according to the Publishers Information Bureau. Ad revenue was estimated at $22.5 million, down 11 percent from the same period in 2007.
AmEx: "Time Inc. Does Not Oversee Our Editorial Direction'
In the original story, the Post claimed that under terms of a joint venture, "Time Inc. runs editorial on most of the AmEx titles, including Travel & Leisure and Food & Wine, for a flat fee and a split of profits above a certain level."
In separate e-mails to FOLIO:, American Express Publishing and Time Inc. representatives denied that Time Inc. has any editorial control over AmEx's titles. "FSB was never a custom published magazine for AmEx," the Time Inc. spokesperson wrote. "It was and is an independent journalistic operation that used and serviced American Express via distribution to its OPEN Small Business Cardholder base."
The online version of the Post story has since been updated.
Meet the Author
---