Time Inc. Relaunches AllYou.com with Coupon Database

Publisher becomes latest to add coupons to Web sites.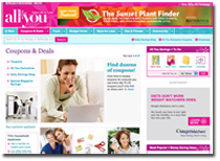 Time Inc. has become the latest publisher to feature coupon offers online. The company has partnered with Coupons.com to launch a coupon database on women's site AllYou.com.
According to All You executive editor Susan Spencer, the partnership is part of a redesign to deliver more money-saving content. "In addition to delivering value-focused content from budget beauty ideas to meals under $2, the new site also allows us to share exclusive printable coupons, discount codes and up-to-the minute deals," Spencer said in a statement.
The new site features the "Coupons and Deals" channel, which showcases coupons from Coupons.com as well as coupons exclusive to All You. Coupons also will be integrated into relevant site content, the publisher said.
In April, Hearst announced a partnership with Coupons.com to launch a "coupons and deals" section on Delish.com and said it planned to launch the coupon initiative on more of its sites in the coming months. Hearst said adding downloadable coupons to its sites would increase traffic, page views and user engagement.
Time Inc. plans to increase All You magazine's rate base from 975,000 to 1.025 million in January, the publisher said.
Meet the Author
---