Three's a Crowd on Women's Service Covers

Exceeding one cover model is rare. Here's why.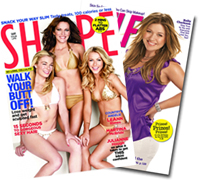 For its October issue, Self is doing something that it hasn't attempted in over a decade, and Shape and Good Housekeeping are of the few to recently execute it: putting multiple models on a single cover.
Shooting two or more models for a cover is hardly a "radical" move when you consider the new publishing, mobile and Web technologies launching every day; however, it presents challenges when it comes to good use of cover real estate.
Despite a long history of executing "triples"—covers with three models—at Mademoiselle, "It's never easy," Self creative director Cindy Searight told FOLIO:.
Of course, "There needs to be a good reason for having multiple cover models in the first place," she added. Self's October issue, which will execute a triple, will feature actresses Kristin Davis, Kristen Bell and Malin Ackerman from the upcoming movie "Couples Retreat" (the October issue will hit newsstands on September 22).
After a quick Google search, I found only Shape's July issue cover on "Country's Angels," featuring the trifecta of ballad-singing celebrities LeAnn Rimes, Martina McBride and Julianne Hough, and Good Housekeeping's September issue cover story, "This is What Happy Looks Like!" with Jada Pinkett Smith, Trisha Yearwood and Meredith Vieira, to fit the bill. While there may be a few other stray triple covers out there, the concept remains in the design minority for many service titles.

It's possible that the opportunities for using multiple models may be limited. But as far as budget concerns, "Production costs are about the same [as a single model cover]," said Searight. "It [triple model cover] only adds nominally to costs, especially since the actresses are all local to LA." A large part of a magazine's hesitation is likely due to the daunting task of creating an emotional synergy between the cover subjects, a huge amount of logistical pre-planning, and fitting copious service coverlines, a large logo, and multiple bodies on a 10.5" by 8" space.
"Self's logo takes up almost 50 percent of our cover's top horizontal real estate," said Searight. Opting for a triple necessitated that Searight scale down the size of the October issue's coverlines slightly more than with past issues.
Most daunting is probably the prep work involved. Searight pre-requested the measurements (height and size) of each actress/cover model ahead of time. She then recruited three of Conde Nast's female employees of similar scale to test out the physical logistics of various poses.
"I blocked it out in the hallway with a digital camera, especially since all three actresses have very different heights," said Searight. "I did a mock up, and then a sketch from the mock up so that when I went to the studio, I could show the actresses how I envisioned them sitting or standing." While shooting each actress separately and working design magic later isn't out of the question, for Self's cover Searight said that editorially she wanted the actresses to project "an emotional attachment."
Art directors aspiring to execute a triple should consider a monotone color palette, said Searight, and avoid contrasting clothing and background colors. Self's October cover was shot with two different background colors, blue and raspberry. The blue "blended well with the models' blue jeans, providing enough space for coverlines to read well," she said. While the raspberry never made it as the cover drop, the shots were used within the magazine's pages.
Meet the Author
---