Thin Reads Launches to Track E-Book Singles Market

Database contains information on more than 700 titles going back to 2010.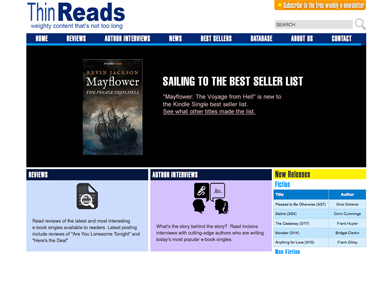 A new web-based e-book singles aggregator launched this week. Called Thin Reads and started by Howard Polskin, who left his executive vice president post at the MPA in December, it's a consumer-facing database of e-book singles available from Amazon, Barnes & Noble and iBookstore.
E-book singles, defined as works of short fiction or non-fiction that are between 5,000 and 25,000 words long, have been a burgeoning market, one that has its fingers in magazine publishing as well.
The Atlantic just formed a partnership with Longreads—and Hearst, Rodale and Condé Nast, among others, have all been selling e-books and e-singles for the last couple years.
So far, Thin Reads has a database of more than 700 e-book singles dating back to 2010, from more than 150 publishers. Polskin is segmenting out data including title, pub date, publisher, author, description, length and retail platform.
Early findings note that 54 percent of e-singles available in the Thin Reads database are "original" works, meaning they were created originally for the electronic platform.
Conversely, Thin Reads data reveals that 12 percent of e-singles are "encore" works, meaning they've appeared previously in another format. 
Meet the Author
---