TheAtlantic.com to Ring Up 103 Percent Revenue Growth This Year

Magazine site makes HuffPo's list of online 'game changers.'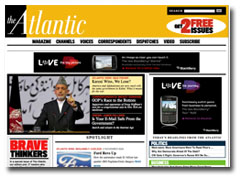 As part of its "Game Changers" package, the editors at the Huffington Post have come up with a list of the 10 biggest innovators in media—people or organizations that are using the Web to change the industry. Some of the more well-known names on the list include CBS Evening News anchor and managing editor Katie Couric for launching Web-based interview program @katiecouric, and Tina Brown for transitioning from print to online for launching The Daily Beast.
Visitors can check out the list here, and vote for who they think is the ultimate media game changer.
From the world of magazines, making the list is editor James Bennet and editorial director Bob Cohn from TheAtlantic.com. According to HuffPo, the site is expected to report 103 percent growth in digital revenue in 2009. It said the site—and its writers—is "as prolific as it is impressive."
Even while most publishers are ramping up (or scrambling) online, The Atlantic's Web site has added channels including business, politics and food; launched the Atlantic Wire, an opinion news aggregator; and has plans for a forthcoming business site. The site has bolstered its blogging efforts by hiring big names like Jeffrey Goldberg, Ta-Nehisi Coates and Andrew Sullivan, who was named to the 2009 FOLIO: 40.
Did I mention 103 percent digital revenue growth? With gains like that, it's hard not to include TheAtlantic.com on any online media innovator list.
Who else do you think should have made HuffPo's list? Let us know. Leave a comment below.
Meet the Author
---