Survey: Existing Customers, Not New Ones, More Important to Publishers

Boosting retention and revenue from current customers among top priorities.
Sponsored Content
As advertising continues to be challenged, publishers are turning to their subscribers and customers for new revenue opportunities. In doing so, lifetime value models change and acquisition costs become more acute. Even so, many publishers are only now discovering that there are many nuances to increasing per-customer revenue.
To help shed some light on this process, Folio: partnered with Hallmark Data to conduct a short survey how closely publishers are actually monitoring their margins, costs and values associated with each customer.
An online survey conducted in November collected responses from 184 publishing executives. Most respondents were spread across executive management, editorial, marketing and audience development functions. Top-line results indicate publishers are more focused on retention efforts and driving more revenue from existing customers than finding new ones. The full survey will be published in the January/February issue of Folio: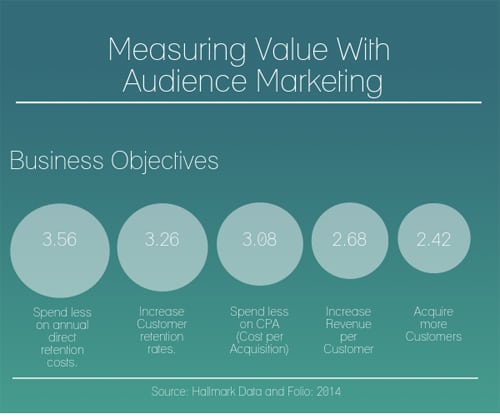 In measuring key performance indictors, respondents gave the highest rating (a 3.95 average) on a 1-to-5 scale to the importance of retention rate of "active and engaged customers." Just behind, with a 3.68 average, was lifetime value.
When analyzing and characterizing acquisition and retention sources on the same 1-to-5 scale, the top-two rated responses included "market share, percentage of total audience engaged" (3.73 average) and "most valuable new acquisition source" (3.60 average).
Interestingly, when asked to rank specific activities in order of business importance, respondents seek to spend less on annual direct retention costs (3.56 average rating), but also want to increase customer retention rates (3.26 average). Cost control is top of mind for respondents, who next indicated that they wanted to decrease cost per acquisition (3.08 average).
Ranked last in business importance, with a 2.42 average on a 1-to-5 scale, is "acquire more customers."
Meet the Author
---