Summit Business Media's AdvisorOne.com Launches Paid Content Product

Move aims to diversify revenues beyond advertising.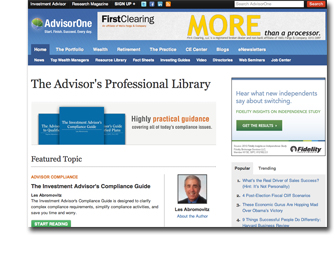 Summit Business Media's AdvisorOne.com, a site serving the financial advisor market with content from Summit's Investment Advisor and Research magazines, has launched a per-use paid content product called Advisor's Professional Library.
Rather than gating the site with a metered or walled model, Summit Business Media opted to pull together a library of content designed specifically for paid distribution.
"A majority of our audiences here at Summit are seasoned financial services professionals operating in highly competitive, heavily regulated markets, where they're required to stay on top of a large amount of evolving legislation as well as a complex tax code," says John Whelan, executive vice president, media division. "This creates a need for highly technical content delivered in timely formats, and tailored to their needs, and Summit is well placed to develop products of this nature."
Paid digital content is not a new concept for SBM, but the per-use, library approach signals a new revenue stream for AdvisorOne.com. Following a free-trial period that provides three articles for free, customers pay $1.99 on a per-article basis.
Diversification is not solely print media's mandate. The strategy intends to help AdvisorOne.com rely less on a strictly ad-supported revenue model.
"The content currently served is original material developed especially for distribution in paid formats," adds Whelan. "We do not see much opportunity right now to 'ring fence' and charge for content previously offered for free. Besides, most of our content in the Media Division supports the controlled circulation print model, so we didn't lose revenue from subscription paid content by suddenly giving it away to support digital advertising models. This is an entirely new revenue stream for us."
The per-use model is a "first-phase decision," says Whelan, and gets the ball rolling as a proof of concept before it's expanded into subscription models.
The Library has been marketed through traditional channels such as email and website advertising, but the site's taxonomy structure, which provides "more like this" content suggestions, is the primary method for attracting readers to the paid content. 
Meet the Author
---