Success Launches Women's Spin-Off

Despite economic gloom, magazine launches brand extension.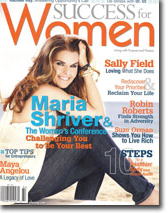 Despite the gloomy economic outlook, Dallas-based Success Media announced today its plans to launch a Success spin-off called Success for Women. The title will have a mid-October launch of 50,000 newsstand copies.
Success itself had a rocky start, going through three iterations before folding in July 2007 and having its assets purchased by VideoPlus, a marketing and communications company that also publishes Success from Home, Your Business at Home and Empowering Women. At the time, publisher Joseh Guerriero told FOLIO: "We had a total of 16 full-time employees and four part-timers. All were let go except for yours truly."
Times now, however, seem to be looking up. Success for Women—with an edit mission of inspiration and instruction for women in their personal and professional lives—will continue as a bimonthly in the second quarter of 2009.
Deborah Heisz, who was named editor-in-chief of Success in January 2008, will also be Success for Women's editor-in-chief. 
Meet the Author
---