Stephanie George

President, women's fashion and lifestyle group, Time Inc.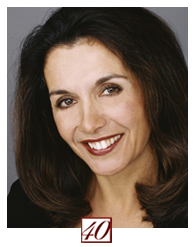 Time Inc. has struggled through sweeping staff downsizings over the last few years, rumors of divestment from Time Warner and a dramatic rate base in its namesake newsweekly.
But those reductions and the bad news surrounding many print brands is only a challenge for Stephanie George, who manages some of the world's biggest and best-known print-based brands. George's task is to both manage the health of the print brands and at the same time migrate them into robust online businesses. It's a challenge that has cost many executives their jobs in the last 10 years.
For George, who oversees In Style, People, People en Espanol, Essence, Real Simple and Entertainment Weekly, the plan is to build a giant portal that competes not with other print magazines but brands like Yahoo. "Time Inc., in aggregate, has 25 or 26 million in total audience," George says. "We conceived the Time Inc. Digital Network last spring to compete with the other media companies, Yahoo, all the big players. And when you look at the list, the top 12-15 in terms of traffic, Time Inc. is right up there."
The network is more of an ad-sales play than a rethought Pathfinder, of course, but George says the anticipated growth notwithstanding, digital will remain a small slice of the pie for her group. "We know we are going to have a split of 30 or 40 percent against our print someday, but we're not there yet," says George. "Four percent is probably where it is right now. But we're learning a lot about the P&L and how to make money."
George says the revenue split evolution will take longer because her print brands are not just massive, they're also increasingly rare examples of print magazines that are growing fast. "It's been like a rocket ship," she says. "People had 11 percent growth last year. Real Simple had 22 percent growth last year. In Style's print has been extraordinary.
VITAL STATS: Time Inc.'s longterm goal for digital is to be 30 percent to 40 percent of total revenue.
RELATED VIDEO: Interview with George at the 2007 FOLIO: Show
Meet the Author
---