Stagnito Media Buys Three Titles in Private Label Retail Market

Private Label will be combined with Store Brands to form new magazine.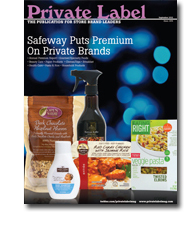 Stagnito Media, a Deerfield, IL-based b-to-b publisher targeting the food and non-food retail markets, has acquired three brands from E.W. Williams Publications. Private Label, Private Label International and Private Label China and associated assets were included in the deal.
Private label, or store-branded products, have been one of the fastest-growing retail segments, says Harry Stagnito, president and CEO of Stagnito Media. The company will combine Private Label with existing title Store Brands to create a new magazine called Private Label —> Store Brands. The new title will have a circulation of about 30,000.
Additionally, Private Label International and Private Label China will provide Stagnito with an instant international reach. "Our objective was to take the best of both publications and combine them into one, which enables us to build out the strength of the U.S. market. Private Label International and Private Label China give us the foundation to grow internationally, which we did not have."
Stagnito has been slowly building its private label-related portfolio since 1998, when he acquired a publication in that market and launched Store Brands.  
Terms of the deal were not released and Stagnito declined to offer any further specifics, but says his company is actively looking at other acquisition targets and planning more launches in the short term. Company revenue, he says, is up 20 percent year-over-year—with growth occurring across all platforms, including print.
Stagnito Media itself was acquired early this year by Long Island-based private equity firm Topspin LBO.
Meet the Author
---