Sports Illustrated Sees Advertising Uptick

'Stars aligning' for fall issue ad page increases, VP said.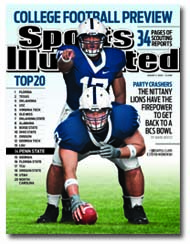 It appears that Time Inc.'s Sports Illustrated Group is seeing some initial glimmers of light at the end of the long, dark, print advertising tunnel. The group today said that ad pages increased 45 percent year-over-year—to 80.3 pages—for its September 7 NFL preview issue.
In addition, the magazine's August 17 College Football Preview issue saw ad pages climb 15 percent, to 45.17 pages, compared to the same issue in 2008. Golf Magazine, which also is managed by the SI Group, saw ad pages grow 8 percent for its September issue.
Beyond selling marketers on SI's custom media offerings, "it's been about great timing and the stars aligning," group advertising sales vice president Jeff Griffing told FOLIO:. "First, football season is about to begin. Second, in tough times like these, people are looking for community—they want to crack open an issue of Sports Illustrated and read about their favorite sports teams. At the end of the day, marketers want to buy an audience, and that's been strong for us. That's why we've been in the conversation."
Offering free or aggressively discounted print ads is "not the strategy" for SI, Griffing said.
The advertising improvement is significant for SI following a 14.9 percent drop in ad pages through the first half, according to Publishers Information Bureau figures. Golf Magazine pages, meanwhile, tumbled 37.3 percent through the first six months.
In terms of ads, the remainder of the year is shaping up to be better but SI isn't out of the woods, yet. "The third quarter is looking better than the first and second quarters, but we're running up, year-over-year, on a third quarter last year during which we had some pretty big issues," Griffing said. "In terms of proposals, though, RFPs have been up anywhere from 10 percent to 20 percent, depending on the week."
While so many print magazines are hanging on by a thread, Griffing said the SI Group is "feeling good." "Print is not dying and we are not on a respirator," he said. "Just like with the housing market, it depends on who you ask, but things do look like they're improving."
Meet the Author
---