Special Preview – Folio: B-to-B CEO Survey Report 2009

A look at b-to-b publishing in advance of FOLIO:'s 5 year report.
In August, FOLIO: will release a special report analyzing five year's worth of its B-to-B CEO surveys conducted with Readex Research, tracking everything from revenue performance to profit trends to technology investments and CEO salaries.
In advance of the five-year outlook, FOLIO: is offering a preview of some of the findings specific to b-to-b publishers in 2008 and 2009.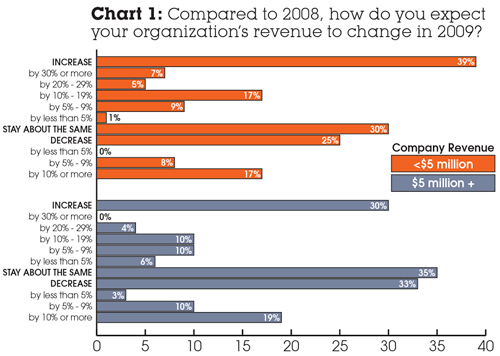 While b-to-b publishing is obviously challenged (American Business Media's Business  Information Network says trade ad pages have sunk 28.9 percent for the first two months of 2009, representing 31 straight months of decline), a significant number of respondents to Folio:'s 2009 B-to-B CEO Survey think overall revenue will grow this year. Thirty-nine percent of respondents (Chart 1) generating less than $5 million in revenue per year think they will be up (with 17 percent of that group saying they'll be up by 10 percent to 19 percent). Meanwhile, 30 percent of smaller publishers say revenue will remain flat from 2008 and 25 percent say it will decrease.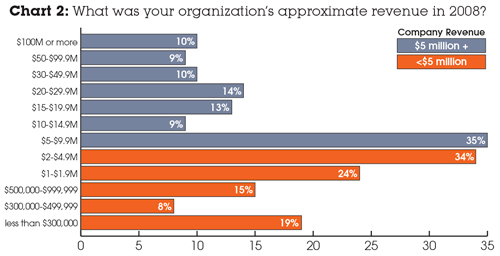 Thirty percent of publishers generating more than $5 million per year in revenue say they expect overall revenue to increase this year, with 20 percent saying the growth will be between 5 percent and 19 percent. However, larger publishers seem more doubtful about growth than smaller publishers, with 35 percent saying revenue will be flat and 33 percent saying it will decrease
Meanwhile, the mix of revenue for b-to-b publishers continues to expand although print remains the dominant product, accounting for an average of 54.9 percent for smaller publishers and 52.9 percent for larger publishers (Chart 3) in 2009.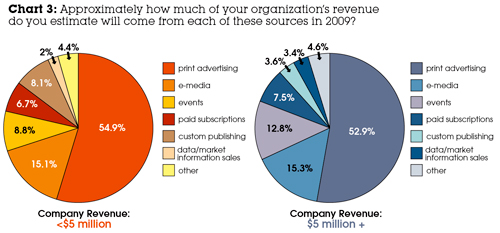 While the "tipping point" is a phrase that typically refers to digital surpassing print, online remains the second largest revenue stream for both larger (15.3 percent) and smaller (15.1 percent) b-to-b publishers. However, digital has surpassed events as a revenue stream for both larger and smaller b-to-b publishers in 2009. While there are some obvious exceptions to that (notably larger event producers like Advanstar), it suggests events have been hit even harder over the last year than expected.
And while data/market information sales may be the next big opportunity for b-to-b publishers, it remains the smallest revenue stream, accounting for an average of 3.4 percent of overall revenue for larger publishers and 2 percent of revenue for smaller publishers generating less than $5 million per year. However, as digital strategies, and subsequently lead generation strategies, become more sophisticated, look for data/market information sales to soar over the next few years.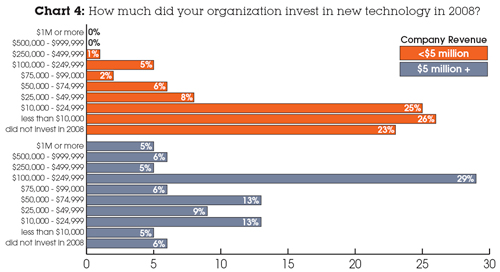 Technology Investment
Ramping up the digital business and maximizing cost efficiencies are priorities for most publishers. However, there seems to be a growing divide between smaller and larger b-to-b publishers making significant investment in technology, especially during the downturn. Five percent of larger publishers spent $1 million or more on new technology in 2008, while the majority of respondents in the $5 million+ category say they spent between $100,000 and $249,999 on new technology last year. Just 6 percent say they did not invest in new technology (Chart 4).
On the smaller publisher side, the majority of publishers spent less than $10,000 on new technology in 2008, while 23 percent say they did not invest in technology at all.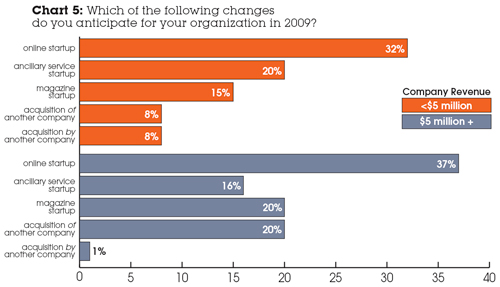 Meanwhile, 32 percent of smaller publishers and 37 percent of larger publishers say they will launch an online startup in 2009 (20 percent of larger publishers also say they will launch a print magazine).
While M&A remains light, 20 percent of larger publishers expect to acquire another company before the year is out (compared to 8 percent of smaller publishers).
Meet the Author
---