The Spears Family

In 2006 was Brangelina. But 2007 belonged to Britney and Jamie Lynn.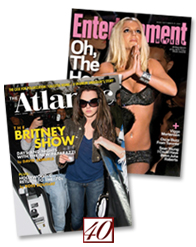 One-hundred-seventy-five.
That's how many times Britney Spears appeared on the cover of People, Us Weekly, In Touch, Life & Style, OK! or Star magazine between January and July of 2007. And with good reason. According to a quasi-scientific study on the "Britney Effect" conducted by Portfolio, putting Spears on the cover of a celebrity tabloid equates, on average, to 1.28 million single copy sales—and $360 million in combined newsstand revenue for those magazines. There's no doubt Spears' trainwreck of a year helped prop up the celebrity category—just as some onlookers were beginning to think the public would become exhausted with the Brangelina-fueled market.
In the second half of 2007, People, US, In Touch, Star, Life & Style and OK!—which represent 27 percent of industry sales revenue—experienced a rise in unit sales of 0.8 percent, and an 11.4 percent increase in revenue.
But it wasn't just Britney. OK! found out just how lucrative the entire Spears clan can be, when it was handed, perhaps, the celebrity scoop of the year: Jamie Lynn-Spears—Britney's 16-year-old sister—was pregnant. The cover story propelled the magazine to sell more than a million copies for the first time—and sent its Web site's servers into emergency traffic crush mode. (Smartly, People.com bought "OK magazine" as a Google keyword the day the Spears story broke, displaying a link under search results that read "JAMIE SPEARS PREGNANT.")
Even non-celebrititles aren't immune to Britney. Portfolio ran "Inside the Britney Industrial Complex" in February. Blender photoshopped Ms. Spears' head onto an unsuspecting model's body for its March cover. And the 150-year-old Atlantic—yes that Atlantic—drew the ire of many subscribers for putting Spears on the cover of its April issue.
VITAL STATS: A Britney tabloid cover, on average, equals 1.28 million in newsstand sales; OK!'s Jamie Lynn scoop sent the magazine over the million mark for the first time.
Meet the Author
---