SourceMedia Offering Enhanced Data Access to Subscribers

Cloud-based portal will allow clients to manipulate data themselves.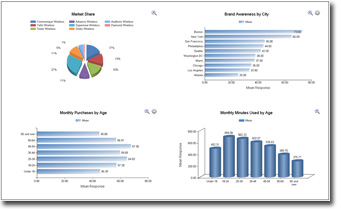 SourceMedia will now offer clients access to a propriety data portal, allowing users to manipulate data behind the company's regular analytics reports.
The new cloud-based service provided by MarketSight will give users the option see and handle data derived from quantitative surveys and industry analysis previously only available to SourceMedia. Touting a new dashboard capability, the platform will allow for statistical tests, data crosstabs, interactive charts and graphics, and exporting to a variety of other programs.
Clients had previously only had access to the data via a static PDF, Excel or PowerPoint version of the report.
MarketSight has fulfilled a similar role for SourceMedia internally, serving as a framework and analytics tool for the in-house research used to compile their regular reports. SourceMedia decided to essentially resell the platform directly to its clients after learning that several were already MarketSight customers.
"We have always used MarketSight," says Dana Jackson, research director for SourceMedia. "Now we're giving [our clients] access to an online portal, so that they can manipulate the data themselves. It makes them more autonomous with the data-it's theirs now."
Terms of the partnership with MarketSight were not disclosed, and client pricing for the new option will be determined on a case-by-case basis, according to Jackson, who could not provide an estimated dollar amount of what they will be charged.
Several levels of pricing and utility are available as the type of access and number of authorized users can vary. Additional charges will be added on to existing contracts with current clients.
"We do see it as a higher value service for [our subscribers]," Jackson says, while admitting they don't think MarketSight is a fit for their entire client roster. Jackson estimates that some form of the service will appeal to about half of their clients.
"It's not for everybody," she says. "It's for clients who really want to get in there and roll up their sleeves and do something with the data. A lot of our clients, that's not their expertise, so we'll still deliver the traditional way."
To stay updated on the latest FOLIO: news, become a Facebook fan and follow us on Twitter!
Meet the Author
---