SourceMedia Folds Investment Dealer's Digest

Staff for weekly publication assigned to other SourceMedia mags.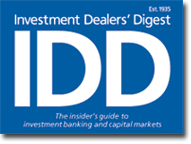 The last issue of Investment Dealer's Digest was released on May 27, as the weekly publication has folded. Paid circulation of the magazine was less than 700.
SourceMedia chose to shut down Investment Dealer's Digest, a publication part of Source's capital markets group. Michael Stanton, senior vice president of the capital markets group with SourceMedia, says it was decided IDD readers would be better served with vertical publications.
"The readers have been transitioned to Mergers & Acquisitions, the flagship in the equity capital markets space and to Leveraged Finance News, which is on the fixed income side," says Stanton.
IDD's staff of two has been reassigned to other Source publications: Alison Bisbey Colter is now with Leveraged Finance News, and Paul Burton is writing for Bond Buyer.
Users who click on the IDD website are now automatically redirected to the Mergers & Acquisitions homepage.
Meet the Author
---