SourceMedia Develops Virtual Environment To Distribute Content

The Health Data Management brand takes users through an immersive experience.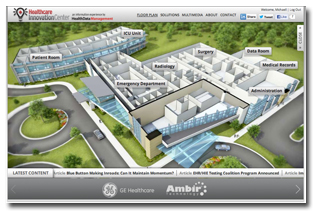 The SourceMedia brand Health Data Management (HDM) is bringing a new approach to content distribution, sending readers to an immersive virtual environment.
Launched earlier this month, the Healthcare Innovation Center is a cyber hospital aimed at giving content a more natural fit for an audience of senior-level medical administrators, clinicians and IT leaders. 
Site visitors are presented with an overhead floor plan from which they can visit one of eight rooms—emergency department, radiology or medical records, for example. Once in the room, visitors can click on pieces of equipment that feature pop-up links to videos, editorial articles or sponsored product information to learn more. Content is updated daily, with some brought over from HDM and some crafted specifically for the hospital environment.
According to HDM publisher Tony Carrini, users have been staying on the site for an average of eight to ten minutes. Over 1,000 people have registered to use the platform so far.
"It's so hard to get the attention of people these days," he says. "This has only been a couple of weeks, but the path that we're currently on is really exciting."
Site development began early this year after SVP and group publisher Rob Whitaker got the idea from work in the virtual event space.
"I did virtual events and always dug the platform," he says. "It was always very slick from a content standpoint, but with all the work that went into it from a cost and sponsor standpoint, with short shelf-life for just the length of the event, it always seemed like kind of a waste."
Whitaker and HDM editorial staff worked with web designer Decision Council to bring a content-driven approach to the virtual event idea. Decision Council had previously created virtual home experiences for real estate media company Hanley Wood, but this was their first foray into the medical world.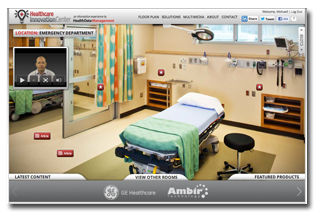 The site's cost was not disclosed, but Carrini did say the venture represented a "significant investment."
Four sponsors have signed on so far, but with room for up to 28, others have largely taken a wait-and-see approach on the new medium. Both Carrini and Whitaker are confident the metrics will bring more quickly, however.
With the visual and segmented room approach, sponsors get access to detailed tracking of consumer behavior that will result in more accurate lead generation, they say.
"We'll know that this user was interested in GE or Ambir or one of our other sponsors," Carrini says. "When I send the list over, they know that this particular person was interested in this room, in their product."
HDM plans to introduce more features, more content and more rooms as the information comes in. They expect social media integration to expand, along with capabilities for live chats and web seminars within the next two months.
SourceMedia is exploring the idea for other brands as well. A small-town model featuring Main Street, Town Hall and Silicon Alley segments, among others, is currently in development for Accounting Today. 
To stay updated on the latest FOLIO: news, become a Facebook fan and follow us on Twitter!
Meet the Author
---