Source Interlink Uses Face-to-Face Events to Promote Hot Rod Re-Launch

Seven-city tour a part of partnership with Walmart.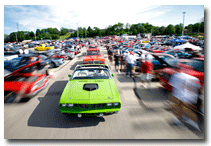 Hot Rod magazine will not only be transformed for its re-launch across print, online and social mediums—its publisher, Source Interlink, plans to also take the brand straight to consumers as part of a seven-city U.S. tour to promote the new identity of Hot Rod magazine.
Originally started almost 20 years ago by the magazine's editors, the Hot Rod Power Tour is designed to turn the essence of the publication into a real world experience. Source Interlink Distribution has an existing relationship with big-box retailer Walmart, and has partnered with the company to stop at 5 of its locations throughout the U.S.
"We've been focused on doing integrated marketing initiatives, which have an in-store component, so this was an attempt to work with one of the retailers to make newsstand magazines more exciting," says Stephanie Justice, executive vice president and chief administrative officer of Source Interlink Companies. "Since the tour was going from Michigan to Texas, it made sense to find some Walmarts near some of the seven stops we're making to have an in-store component."
The rebrand, as previously reported by FOLIO:, is building to the title's 65th anniversary next year, and starts with its September issue, which drops in July. The new print product will contain 125 edit pages, which represents about a 50 percent increase from prior issues. Ahead of the July drop, the Hot Rod Power Tour will run across the U.S. for seven days, featuring more than 4,700 performance racing machines and attracting upwards of 75,000 spectators across a 1,400-mile route.
"We started promoting the 2012 Hot Rod Power Tour last summer/fall, once the 2011 event ended," says Justice. "We have promoted just about everywhere: via the website; social media; the magazine and within some of our other brands. As the event got closer, we used an outside firm to assist with the promotion and publicity.  They also take care of the operations and logistics."
In addition to partnering with Walmart for the tour, the title and company have secured sponsorship support from snack companies Pepsi and Frito Lay-both groups will be in attendance to provide giveaways and coupons. 
Event participants can also retrieve a free commemorative photo with a Hot Rod branded car, and purchase the items listed on the tour "Survival Guide," which include items like bottled water, snacks, sunscreen, camp chairs, car care products, and Hot Rod magazine within Walmart. Those attending the events are encouraged to bring their own hot rod vehicles and display them in Walmart parking lots in a car show-like fashion.
"If it goes well this year, we'll make it even more in-depth next year, and maybe Walmart could potentially sponsor somethings for us," says Justice. "At this point, we went to Walmart to create this marketing opportunity. Hopefully it will be successful and we can do even more next year."
Justice adds that the editors within Source Interlink's Performance Automotive Group carefully mapped out the tour, identifying the closest Walmart at each of the seven stops, with five of them being close enough along the route to hold these events. The title will also take video of these events and post them to social media, and give sponsors the opportunity to purchase the footage for their own use.
"The broad-based appeal of the event is a testament to the love affair with the automobile," says Justice. "It has become a celebration of all things Hot Rod, and the events are designed to bring the pages of the magazine to life."
Meet the Author
---