Source Interlink Reports Revenue Spike

Year-end numbers show print media dipped while fulfillment and digital grew.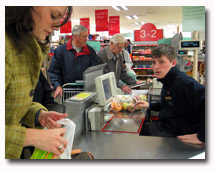 Source Interlink—the magazine distributor owned by supermarket billionaire Ron
Burkle's Yucaipa Cos. which bought Primedia's enthusiast magazine group for
$1.2 billion last year—reported its fourth quarter and full-year fiscal 2008
results this week.
For its full-year reporting period (ending January 31, 2008), the company's
revenue grew to $2.3 billion, a 23 percent jump from the previous fiscal year.
During a conference call with investors, Source Interlink chairman Mike
Duckworth praised the company's ability to diversify—adding print and digital
content ownership to its distribution and fulfillment operation, giving the
company control of both magazines and how they're distributed.
In the fourth quarter, which was the first to include financials from the Primedia
acquisition, Duckworth described a robust digital division but struggling print
side. "Our digital platform posted a 63 percent increase in advertising.
This growth was offset by a challenging advertising environment in print
leading to a revenue decline of two percent from the comparable period last
year. EBITDA decreased $700,000, or three percent, from the same quarter last
year due to both top-line impact and increased cost for paper, ink and
delivery-factors impacting the entire publishing industry."
Duckworth added that due to continued investment in digital (for fiscal
2009, the company expects to spend $14 million of its $39 million capital
expeditures on digital) unique visitors increased 17 percent and full-year
revenues grew 25 percent.
Of the company's four divisions, magazine fulfillment saw the highest
year-to-date growth at 17.4 percent to $950 million.
Source to Increase Newsstand Cover Prices
Meanwhile, Source continues to manage costs through a combination of price
increases and consolidating distribution services. Through consolidating
distribution alone, the company expects a three-year cost savings of $18
million. The company has been integrating its two distribution systems,
starting with the consolidation of its Minnesota and Chicago facilities into
one facility outside Chicago. "This will allow us to service our specialty
and mass-market accounts with one inventory pool across the same logistics
network without any compromise in quality," said Duckworth.
On the newsstand, Source is increasing cover prices to offset higher
manufacturing and delivery costs. The company is also testing higher
subscription prices to "improve overall circulation economics."
Other cost reduction initiatives included a 12 percent slice in headcount
and cost reductions initiatives in consumer marketing and general overhead. In fiscal
2008 Source reduced draw by 10.8 million copies and plans to a further 7.4
million copy reduction in fiscal 2009.
The company reported total debt of $1.4 billion, half of which is currently
at a fixed interest rate.
Meet the Author
---