SmartMoney Custom Offers Financial Services Clients Increased Response Rate Through Data and Personalization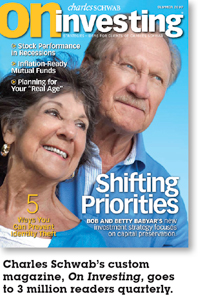 Project: Charles Schwab assets, 401(k) enrollment kits, on-boarding packages
Client: Charles Schwab, various financial institutions
Custom Shop: Custom Solutions from SmartMoney
A custom shop developed through a joint venture between Hearst SM Partnership and Dow Jones, Custom Solutions from SmartMoney focuses primarily on the financial services industry. "We will do things like ongoing communications that are monthly or quarterly, and are totally private label for the client," says Custom Solutions from SmartMoney president Andrew Seibert. "Sometimes there's no way to know that we're behind a project."
Holistic Approach
For financial client Charles Schwab, Custom Solutions from SmartMoney produces custom print and digital assets, including a magazine, a newsletter highlighting Schwab's retail statements, and On Investing at Work, a newsletter geared toward the participants of Charles Schwab 401(k) plans. Custom Solutions from SmartMoney designed, redesigned and created content for Schwab's magazine and newsletters. Its On Investing newsletter folds out, with one side offering educational financial information and the other describing Schwab's financial services and products.
The magazine goes to 3 million readers quarterly, while the On Investing newsletter reaches 1.2 million people eight times annually.
"I think one question the industry is dealing with now is 'How do we lower our costs?' The twist is that people love the paper product," says Seibert. "Evaluating the balance of what's the appropriate amount of print and digital and the client need is the motivation. Really, it's less about what my direct client needs and more about what drives their customers' end product."
Often, says Seibert, customers want to go all-digital, which isn't necessarily in the best interest of their clients.
"We're always working with them on what's optimal in the mix," says Seibert, which may be why Schwab's custom projects possess both digital and print components.
The client is an active partner. "We share feedback and ideas, which in turn generate more ideas," says Charles Schwab director of publications and editorial content, Jennifer Cronin. "It's a living thing, not a signed contract of deliverables."
There is a simple project management aspect of seeing the big picture and being able to execute on the details, she adds. "Outsourcing allows for a more holistic planning process across our publications."
While right now Charles Schwab is channel-specific in print and digital, Cronin says the brand is always open to the new ideas and new marketing approaches that SmartMoney Custom Solutions can offer its clients for their target audience.
Data, Personalization Leads to Response
"Many publishers can do beautiful custom magazines," says Seibert. "But the world is becoming more data-driven and it's all about serving up content in more ways."
With the financial services sector facing unique behind-the-firewall situations, Seibert says the custom shop offers digital options including microsites, interactive PDFs, HTML publications, and digi-mag services. But, he says, one of the most complex custom data and personalization offerings are its 401(k) enrollment kits and an "on-boarding" program.
For one financial services client, Custom Solutions creates 401(k) enrollment kits, which include pre-filled forms, data on new customer eligibility, salary and funds available—all in a perfect-bound kit. These documents are a highly targeted and data-driven product.
Seibert says the custom shop also offers an "on-boarding" program that sends a financial services client's customers a series of communications in the three months after signing up for a bank account. The custom house can personalize future print and digital mailings.
"Really, it's like having a dialogue," Seibert says. "We've found a statistical correlation between these types of personalized mailings and response rate."
Meet the Author
---