Should Time Link to Newsweek?

Embracing your 'enemies' online.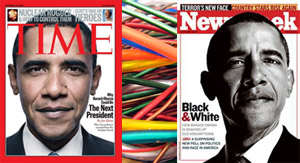 Poignant riff in Andrew Sullivan's 5,300-word "Why I Blog" essay—for the most part a defense of blogging as journalistic form—in the newly redesigned Atlantic:
Writing in this new form is a collective enterprise as much as it is an individual one—and the connections between bloggers are as important as the content on the blogs. The links not only drive conversation, they drive readers. The more you link, the more others will link to you, and the more traffic and readers you will get. The zero-sum game of old media—in which Time benefits from Newsweek's decline and vice versa—becomes win-win. It's great for Time to be linked to by Newsweek and the other way round. One of the most prized statistics in the blogosphere is therefore not the total number of readers or page views, but the "authority" you get by being linked to by other blogs. It's an indication of how central you are to the online conversation of humankind.
This is a simple but important point. Too many magazines—even those that have embraced Web 2.0 touchstones like blogging and social networking—don't link to their competitors nearly enough, because of the once-logical-now-ridiculous notion that readers will eschew coming to their site in favor of sending traffic to the enemy.
That's just not true. If anything, your readers will appreciate you pointing them to a story of interest, and will look to you as a trusted, invaluable resource—or, as Sullivan calls it, "authority." (Check out "The Art of Linking" for what some of the blog-o-dome's most-trafficked bloggers think about linking to rivals.)
Regular visitors to FOLIOmag.com know that we'll link to any competitor—Ad Age, Mediaweek, Paid Content, the Times, Perez Hilton, etc.—if they have something of interest that we don't have.
For some publishers, this is a fundamental shift in the way of thinking about your competitors—they're not your "enemies" anymore.
They're resources.
Besides, as Steve Krug, author of Don't Make Me Think! A Common Sense Approach to Web Usability, notes, your users "spend a majority of their time on someone else's site."
Might as well help them out.
Meet the Author
---