Shape Running Out of Cover Design Ideas?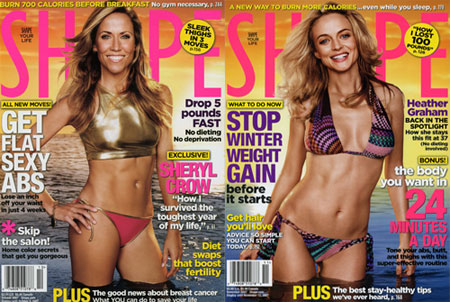 As we were sifting through the stacks of magazines we have collected here at Folio:, we came across the October and November issues of Shape. Placing them side-by-side we couldn't help but notice how strangely similar the covers are.
Both bathing suit-clad subjects (singer Sheryl Crow, October; actor Heather Graham, November) appear standing in water with the sun setting behind them. The color schemes are nearly the same. The cover lines look similar. The list goes on.
A Shape spokesperson says Crow and Graham were photographed in different locations, although at practically the same time of day. Shape creative director Dimity Jones declined to comment other than to call the similarities a "coincidence."
Jones and her team didn't realize the similarities before sending these issues to print? A coincidence? You be the judge.
Meet the Author
---