SF Chronicle Launches 49ers Digital Magazine

San Francisco newspaper offers exclusive digital content through app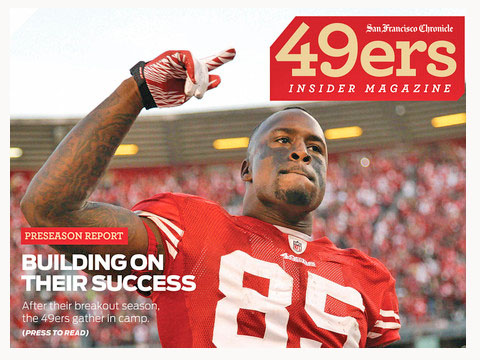 The San Francisco Chronicle launched its 49ers Insider digital magazine last week in advance of the team's season-opener against the Green Bay Packers on Sunday.
The iPad-exclusive app will be published twice each week with a pregame edition released on Fridays and a postgame version coming the day after that week's game. Content includes exclusive multimedia features, articles from the Chronicle's sports section, player profiles, opponent scouting reports, fantasy football and betting advice, as well as social media integration.
"When you research an audience of highly engaged sports enthusiasts, or highly engaged people who watch any particular NFL team like the 49ers, often the feedback that you get is 'I want more information than I'm currently getting and I'm willing to pay for it,'" says Mark Adkins, president of the Chronicle. "The audience says they can't get enough."
More specifically, Adkins says, it's about providing information that isn't readily available elsewhere. There will be some overlap between content in the Chronicle and on the app, but with several new staff members brought on specifically for the digital magazine, the focus is putting out exclusive stories.
The nature of the NFL schedule—one game per team per week, usually on Sunday afternoons—lends itself to a unique publishing schedule as well. It allows Adkins' team to capitalize on the market when it's most hungry for that extra content.
"Everybody has limited information right after the game. You basically know score, statistics and a couple of key elements that may have happened," Adkins says. "But player interviews, coach interviews, those types of things start to trickle in after the game and they're not immediately available. So we see a spike in web traffic, obviously, after the game, but we also see it on Monday when a lot of the coverage starts to come in."
The Chronicle did consider making the app an in-game companion that could complement the fan experience in real-time, but Adkins says the undertaking would have called for additional resources in a time frame that just didn't fit. It—along with expansion into other Bay Area sports, topics and events—remains on their "radar screen" for future development however.
At $9.99, the price works out to about 30 cents per issue for the full 16-game regular season. Issues will continue though, should the 49ers make the playoffs.
As a new product in a new market, Adkins admits his team is not entirely sure of the price elasticity yet, but emphasized that the project's purpose at this stage is to build volume.
"If you have no brand identity, the best thing to do would be to create what we thought [would be] a low enough price point that would drive a significant level of subscribers," says Adkins, who also notes that they've sold out ad space on the app. "We decided that we wanted to try to build volume off of it."
For now, the app is only available on the iPad, but other platforms—for a bigger audience—may be supported by the end of the season.
To stay updated on the latest FOLIO: news, become a Facebook fan and follow us on Twitter!
Meet the Author
---