'Serious' U.K. Publications Band Together for Marketing Push

Cultural Publications Group wants to cross-sell subs, some at big discounts.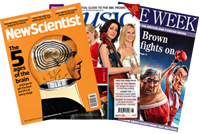 Is there a shortage of people reading "serious" magazines across the Atlantic?
Fifteen U.K.-based magazine publishers think so. They've formed the Cultural Publications Group, a joint marketing venture tasked with showing "the breadth of titles that are available at the more serious end of the market."
The idea behind the initiative, so the group says, is to expose their magazines to a wider audience. Magazines participating in the collaboration include BBC Music, The Spectator, New Scientist, and The Week, among others.
Over the next several weeks, more than 1.3 million leaflets will be distributed (800,000 inside the group's magazines, the rest in other magazines and newspapers) directing readers to a Web site where they can browse the group's magazines and order subscriptions.
And, depending on how many issues are ordered, some subscription prices have been discounted more than 70 percent. One offer, for three issues of Lonely Planet magazine, for example, costs roughly $1.60. Another offer, for six issues of The Week, is free. That's right. Completely free.
Haven't we seen enough evidence that discounting subscriptions, especially during a time when advertising dollars are evaporating, doesn't work? Sure, publishers get a few extra subscribers for a short time but what does it matter if they can't turn those numbers into ad dollars? Selling a sub for pennies on the dollar (or a pence on the pound) doesn't do much for a publisher's bottom line.
To be fair, though, not all of the Cultural Publications Group's subs are at bargain basement prices. For instance, while a three-issue order of BBC Music costs less than $5, a 39-issue order will cost more than $180.
And, the folks at Cultural Publications Group seem hopeful the effort will result in considerable ROI in terms of data sharing. "The value to the publishers is that it (should) help them gain more subscribers at a very low cost per order," group co-organizer Don Brown wrote in an email to me this week. Brown—who serves as business development director for ThreePM, the company that built the group's Web site and manages the subscription operation—was involved in an earlier iteration of the Cultural Publications Group from 2002 to 2005.
"All the magazines taking part are very savvy sub marketers and derive most of their revenue from their subscription income," Brown continued. "The promotion allows them to cross sell to the other group members and to have visibility in media that they may not ordinarily be able to afford … The related benefit is that because all response data will be shared among the group, titles will be able to target the third party media that has been most successful for them."
Interesting. So, might we expect to see a similar group pop up on this side of the pond, made up of magazines like the Economist and the Atlantic? I doubt it.
Meet the Author
---