Selling Events: What is (and isn't) your Job

Today, the Custom Approach Works Best.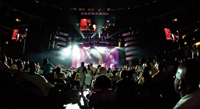 Events are fast becoming the leading revenue stream for many publishers (although the squeeze on T&E budgets may stunt that growth in 2009). Compared to other media, events have a lot of appeal: they're higher margin than print operations and renewals for exhibits are typically 70 percent or better. And unlike print, where advertisers pay 30 days after the ad runs (although actual collection may take much longer), events can require 100 percent payment up front (which is easily enforced at the door).  
Separate Sales Staff?
While most b-to-b publishers are having their sales staff sell both print and online, they tend to keep event sales staff separate. "They're different sales and they have different schedules," says Galen Poss, president of Hanley Wood Exhibitions. "I've seen it try to be done differently, with marginal success at best. That being said, we do create packages that are cross-divisional that can be sold by either side."
One reason for having a dedicated event sales staff is the sheer number of accounts—Hanley Wood's World of Concrete has more than 1,600 exhibitors, compared to maybe  300 advertisers on the publishing side.
For its bigger shows, Hanley Wood has a dedicated sponsorship salesperson who goes onsite to make sure components are executed the way they should be. Smaller shows may not have a dedicated sponsorship person but the salesperson who sells the sponsorship assumes that role for multiple accounts onsite.
After acquiring the Vision events from Gartner, UBM's Everything Channel restructured the shows around market so the sales force has expertise in that area. "We consider ourselves consultants and we want the salespeople to be up on trends," says vp and events group managing director Nancy Hammervik.
For consumer publishers that are typically dealing with a handful of sponsors as opposed to an entire show floor, leveraging one sales staff may make sense.
"Men's Health prides itself on being smart, integrated marketers," says publisher Jack Essig. "Our team is on the street with print, event, digital and mobile opportunities every day. No one is elected as solely responsible for selling an 'event' because that would be working in a vacuum."
Essence Communications does have a dedicated event staff, but shares sales duties. "We have a team of three focused on executing live events, mainly our essence music festival held in New Orleans, and we share sales and marketing services across our organization," says president Michelle Ebanks.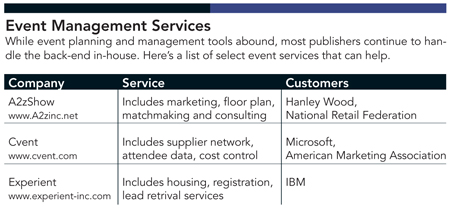 Make Each Sale Custom
Despite the sheer number of accounts, publishers need to help make each sponsor and exhibitor distinct. "The events side of the business thought for many years that they were in the real estate business—selling concrete in 10×10 increments," says Poss. "That thinking has gone away in the last 10 years so that now we realize every exhibitor is looking for something different."
Last summer, Juniper Networks came to Everything Channel with a request to tout a new product line and steal some thunder from rival Cisco. Hammervik recommended Juniper open the event by sponsoring the attendee orientation as well as closing events. Juniper's campaign slogan was "The Switch is On" and Everything Channel put clear decals on every light switch in the hotel with the Juniper logo. "It didn't cost a lot of money, you're looking at 800 rooms for 50 cents per room," says Hammervik.
Everything Channel also identified key buyers Juniper wanted to meet. "I always get comped the presidential suite and it's one of the greatest resources," says Hammervik. "We said, 'Why don't you invite these buyers to my suite for lunch or a presentation.'"
Just beware that it's not the largest sponsors that may take up most of your time. "Some of the clients with the least money need the most hand-holding," says Hammervik. "For some people, $10,000 is all they have for a booth for the year. We won't discount but we'll have an extra value add or introduce them to some key contacts at the event."
Serve Up The Right Audience
Qualify the audience going in. "We can accelerate the sales cycle because we do the pre-qualifying," says Hammervik. "When they come to the show, they can meet 250 clients over four days for $10,000 versus who knows what on T&E for sales calls. That's a persuasive argument for being here during the downturn."
Hanley Wood leverages a program called Connect that mines the database for VIPs. "Technology and a strong database are huge today," says Poss. "Regardless of whether 20,000 or 500 people show up, if it's the right ones, then they're happy."
Let sponsors track what's happening with the show in the days leading up to it. Everything Channel created a Web tool that shows the floor plan of the exhibit hall. "We started booking sales a lot earlier," says Hammervik. "It really created that urgency. We would have clients not ready to sign and we'd direct them to the floor plan. That's the pull."
Don't Guarantee ROI
The key to success is identifying (and managing) the client's expectations. But don't guarantee ROI. "We do everything we can to make sure we introduce them to the right people but they have to understand once they get on site, they have to run with it," says Hammervik. "That's why the policy is to be 100 percent paid before the event—it's so easy for someone to say, 'I went, it stunk, it's the wrong people, there was a glitch in the lighting,' etc. They want to nitpick and backtrack but you need to remember that sales can't be the event host's problem."
Meet the Author
---