How Self's Web Relaunch Reflects the Changing Media Landscape

Executive digital director Carolyn Kylstra on the wellness brand's online growth, and forging powerful connections in the digital age.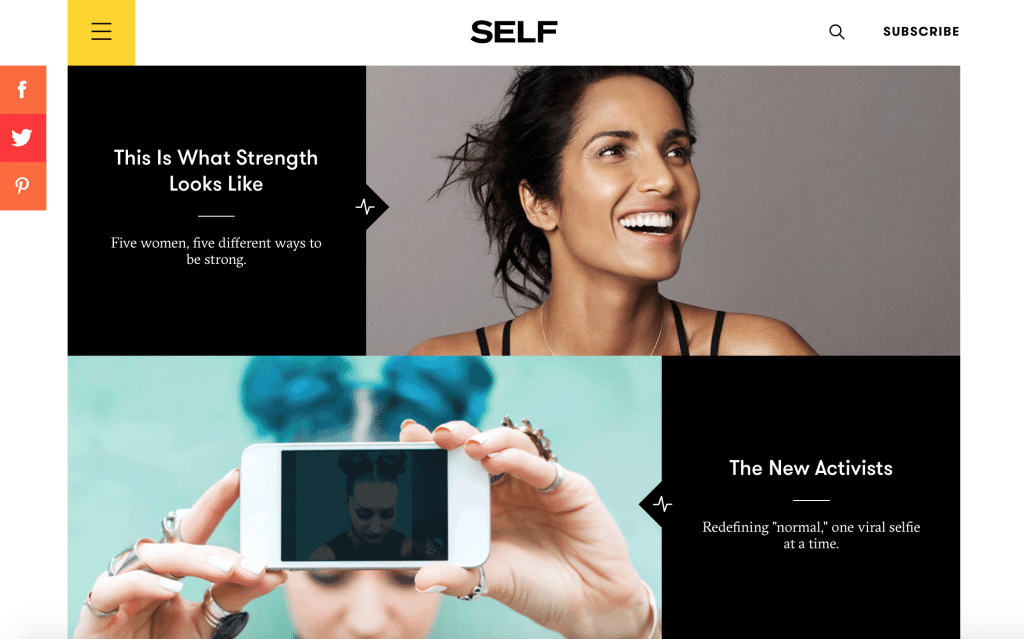 ---
Since returning to the world of magazine media last August after a year as Buzzfeed's health editor, Self executive digital director Carolyn Kylstra has ushered in a period of dramatic growth for the brand's website, Self.com.
Over the first eight months of 2016, loyal visitors are up 63 percent year-over-year, social visits have more than doubled, and offsite video views more than tripled, according to data from comScore. Kylstra's growing 22-member digital team has enjoyed several record-breaking months, including August, when overall site traffic jumped 30 percent compared to the same month last year.
But the Condé Nast wellness title isn't content to rest on its digital laurels. This morning, Self.com revealed a full-scale relaunch, replete with new editorial features, expanded offerings for advertisers, and a reimagined user experience.
"This is something that's been in the works for many months now," Kylstra tells Folio:. "The digital landscape is always changing, and we need to serve our audience on any platform that they care about. The website wasn't living up to the expectations that our audience demanded, and we needed to make it as good as it possibly could be."
Market research conducted to gain a clearer picture of just what those audience expectations were indicated that Self readers primarily value service — which Kylstra calls "actual, helpful guiding advice delivered in a non-judgmental tone" — inclusivity, and relatability. Those insights were then applied to the site's new design and content initiatives.
"Wellness and health means a lot of different things to different people," Kylstra continues. "In thinking about the user experience and what the site should look like, we had to take into consideration. The site will be very bright, energetic, welcoming and clean looking. The user experience is meant to be easily personalizable, so people can find the content that they need or want very quickly."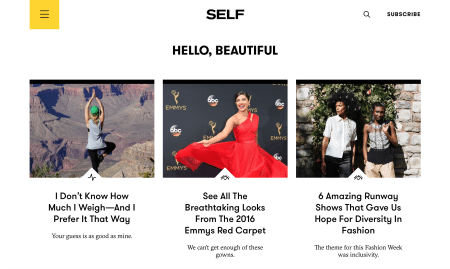 Under the thematic banner, "Come as you are," new editorial features debuting alongside the web relaunch include "The New Activists," which examines an emerging trend of women taking to social media to both raise awareness and ease societal stigmas surrounding their health conditions.
A photo series, "This Is What Strength Looks Like," promotes self-empowerment with personal experiences shared by Padma Lakshmi, Boston Marathon bombing survivor Adrianne Haslet, and model and transgender activist Carmen Carrera. Other features, including two new video series, champion self care and putting oneself first.
"What we're trying to do with Self is help people feel great," Kylstra adds. "You generally can't accomplish that by being negative. We present reality, but I think that in presenting reality, there's a really beautiful kind of de-stigmatization going on."
If any of this sounds familiar, Kylstra admits that the revelations produced by Self's market research came as little surprise. Earlier this year, Condé Nast combined the sales and marketing operations of Self and Glamour into a new entity called Condé Nast Aurora, under publisher Connie Anne Phillips, which focuses on a shared mindset of female optimism and confidence — ideals that attract audiences and advertisers alike.
The new website's infinite scroll functionality caters to both brand partners and mobile visitors, and the overall design was built to accommodate deeper brand partnerships through native advertising.
As publishers continue to grapple with the wide-ranging challenges associated with the ongoing shift to digital media, Self's growth should serve as an inspiration — the embodiment of a legacy media brand learning from the success of the new kids on the digital block.
"I did my time with magazines and then I went to Buzzfeed, and Buzzfeed blew my mind," says Kylstra. "I learned a huge amount about social content and the importance of distributed content."
Meet the Author
---