Second Issue of 'Mine' Doesn't Feel Like It

Time Inc.'s customized print experiment fails to impress jaded media editor.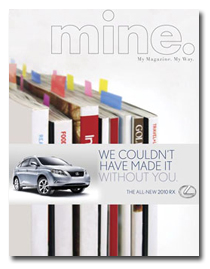 Great idea, but Time Inc.'s Mine kinda sucks.
There, I said it.
When I first heard about Time Inc.'s experiment in publishing a customized magazine,
I was impressed—particularly that a big publishing conglomerate would
attempt such an innovative idea—and hopeful that the concept, at least,
would be successful, even if the business model was not.
After two issues, however, it's clear to me that the execution of this cool idea is failing from a consumer perspective.
Why? Because nothing about Mine feels like it.
From
the customized belly band Lexus ad with the mismatched shades of
grey—for a car I have no interest nor means to buy (the all-new 2010 RX
was inspired by me? I don't think so)—to the dated content (James
Poniewozik's essay on the future of mobile television peppered with
references to Thanksgiving and the Super Bowl) that is neither
customized to me nor matches my interests (I like Sports Illustrated,
don't like football—so why, in May, would I want to read a story about an ex-Green Bay Packer's drug use?).
My hope probably
should've been dashed much earlier. That Time Inc. only solicited
answers to three questions—designed mainly to fill in the blanks on the
Lexus ads—before cobbling together my "custom" magazine was not a good
omen.
I'm not the only one in this office that thinks Mine feels like someone else's. My colleague, Bill Mickey, made that call after his first issue arrived.
Still,
there is at least one jaded media type who is ready to call Mine a
success. Slate's Farhad Manjoo says his skepticism was "misguided":
I've
received two issues of Mine, and I love it. Unlike a lot of the
publications that slip into my mailbox each month, Mine is full of
stories that I actually feel like reading. As promised, many of the
articles look as if they were picked just for me.

…

Mine
isn't an echo chamber that merely reflects my narrow views. Instead,
reading it is a bit listening to Pandora, the online service that
serves up songs based on my musical preferences. Like Pandora—and like
the best magazine editors—Mine exposed me to stuff that I liked but
probably wouldn't have sought out on my own.
To each his own.
Meet the Author
---