Scott Donaton

Publisher, Entertainment Weekly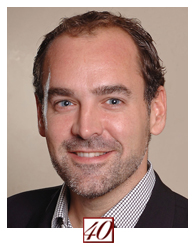 There are job changes, and then there are jaw-dropping career moves. Scott Donaton's path falls into the latter category. Donaton, who began his career as an entertainment reporter for AdAge about two decades ago, was named publisher of Entertainment Weekly late last year.
So, how did he do it? By building and keeping relationships across the entire magazine universe. Of course, he also had fundamental knowledge of how magazines work and what makes the entertainment business tick. Donaton created the Madison + Vine brand at AdAge and also wrote a non-fiction book titled, "Madison & Vine: Why the Entertainment and Advertising Industries Must Converge to Survive," which was published by McGraw-Hill in 2004. Over the years, he built relationships across ad agencies and advertisers, such as General Motors, Coca-Cola, Procter & Gamble, and he understood how they use media with marketing, he says. "Everything I had, the knowledge and relationships, all transferred over and in some ways it was a more natural fit than someone coming up with just a sales or marketing background."
This spring, Entertainment Weekly will start to unveil some marketplace initiatives that will be different and it will all touch the brand mission statement, he says. "You'll see coming out from us over the course of a year a series of marketing, sales and product initiatives that all come from knowing at the core who we are as a brand mission and how to address those."
His first mission as publisher was to get his internal team on board. While the core mission of the magazine had stayed the same over the years, the consumer had changed.
"Any brand starts to have certain arms and legs that don't belong there," he says. "We had to step back and really talk about the brand. It's not a dramatic reinvention of what we've always been, not at all. It's a different way to express it and to understand it."

VITAL STATS: Entertainment Weekly has a rate base of 1.725 million. Its ad pages totaled 1,541.08 in 2007.
Meet the Author
---