Saveur.com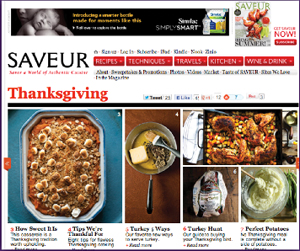 Ozzie Winner: Best Site Design, Consumer
For a publication like Saveur, implementing images as narrative supplements is just as critical in print and digital.
Senior Web editor Helen Rosner says she and her team have been extremely proactive developing a "harmonious" digital design that has a similar feel as the print product.
Photography is an elemental component to the Saveur brand. "We like to think of our magazine as a beautiful photography magazine that photographs food," says Rosner. Saveur.com is capitalizing on that notion. "We have updated the homepage from a single image to an image rotator," thus providing readers with more visual accompaniments that pair well with the site's long-form pieces.
The look and feel of Saveur.com is largely due to extensive market research. "We have looked into metrics, and preferences. We made it so that a reader won't have to go more than 300 or 400 words without an eye rest," says Rosner.
The strategy seems to be working. Two years ago Saveur.com averaged 300,000 monthly visitors, a total now eclipsed by over a million monthly visitors.
Saveur is not done tweaking its site design, however. Like many necessary ingredients for a Saveur.com recipe, freshness is principle. It recently unrolled a redesign with expanded pixels, and a change from a three-panel display to a two-panel display. Rosner views the changes as an upgrade and not an overhaul, stating that the site still aims to be a "portal for beautiful recipes, beautiful photography, and beautiful culture."
Meet the Author
---